In Memoriam: Dick Corrigan, 76
17 Years at Chase, Including 10 Years in Malaysia & Singapore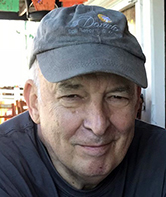 The CAA mourns the passing of its longtime member Richard (Dick) Corrigan, who served Chase Manhattan for 10 years in Malaysia and Singapore. He died on March 4, 2021 in Florida after a long bout with non-Hodgkin's lymphoma and heart failure. He was 76.
Born in Morristown, NJ, he attended Morris Catholic High School in Denville, NJ. Corrigan earned a BA in History at Manhattan College and an MA in Political Science from University of Maryland. He joined the U.S. Air Force in 1968 and served as an Electronic Warfare Officer/Navigator, including a tour in Vietnam, for which he received a Distinguished Flying Cross and five Air Medals.
Upon resigning his commission as Captain in 1973, he joined the Chase Manhattan Bank's International Department for a 17-year career, including a 10-year assignment in Malaysia and Singapore, where he specialized in commercial lending, trade and project finance. Upon returning to the United States in 1990, he was seconded to the Resolution Trust Corporation, where he managed the dissolution and asset disposition of over 200 subsidiaries of failed savings and loans in the southeastern United States.
Completing that assignment, Corrigan joined the Overseas Private Investment Corporation (OPIC) as a workout officer and rose to the position of Director Asset Management and Risk Management. After retiring from that government agency in 2007, he was asked to assist the U.S. Department of Energy in setting up the Loan Guarantee Program approved to support new renewable technologies, advanced fossil fuel power generation and nuclear power facilities. Over the next four years, Corrigan was instrumental in advancing the program that supported numerous wind and solar projects and the construction of the last nuclear power plant built in the United States. He retired in 2011 as Program Manager for IBM, which supported the Loan Program with over 100 contractors and independent industry experts.
Upon retirement, Corrigan established his permanent residence in East Lake Woodlands, in Pinellas County, FL, where he was active in community programs as well as international and renewable energy sectors. He also maintained a second home in Big Canoe, GA, which served as a summer base of activities for his daughters' families.
Survivors include his wife of 52 years, Pamela Corrigan (Schultz), his three daughters and 10 grandchildren, as well as five of his six siblings. Memorial contributions can be made to the American Cancer Society.
Remembrances
Please send to news@chasealum.org.
From Beth Levinsky: What a sweet & funny man. I'm trying to recall the years he spent in NY @ 1CMP in Intl Institutional, I'm guessing was late 70s or early 80s...I can still hear his voice with quick wit when he spoke. I love reading his accomplishments after Chase.
From Ann Corrigan (his only sister): Brother Richard, a smart man with a tremendous sense of humor and a heart of gold. He's so missed. He was my lodestar.