Life After Chase: Robert Graboyes
Podcast Host, Musician/Composer...and Still an Economist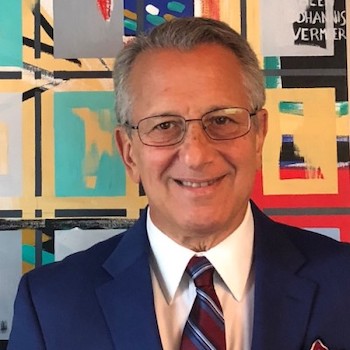 Robert Graboyes
says he is a rarity: an extroverted economist. Indeed, he once lost out on a job because the potential employer required him to undergo a Myers-Briggs personality test; a psychologist evaluating Graboyes' results said there was no way someone with his personality could be an economist.
But an economist – and quite successful one – he has been, as well as award-winning writer, professor, public speaker and scholar focusing on technological innovation in health care, polyglot, lifelong composer and musician, and, as of recently, podcast host.
After earning his BA in English in 1976 from the University of Virginia–where he never took an economics course–Graboyes was a general news and political reporter for a newspaper in southwest Virginia. He found himself interested, if then ignorant, of the economic aspects of the topics he had to cover. He left the paper and started taking economics courses, earning an MA in Government at The College of William and Mary.
In 1980, he moved to New York City to pursue his doctorate in economics at Columbia. While earning his MPhil (ABD) in 1983, he began five happy years as the risk officer for Chase Manhattan's Sub-Saharan Africa desk.
He married in 1985 and become a father a year later. In 1988, he and his wife decided it was easier to raise a child outside of New York City and moved to Richmond, VA, near where Graboyes had grown up. For 12 years, he was Director of Economic Education and Regional Economist for the Federal Reserve Bank of Richmond. He went on to teach economics and quantitative methods for 6 years as a Visiting Professor at the University of Richmond and direct the school's foreign language immersion program. (Graboyes himself is highly conversant in
French, Spanish and Portuguese. At one time, he could get by in Italian, Hebrew and Yiddish, though those three have grown rusty. He taught himself American Sign Language for the years he gave semi-annual lectures at Gallaudet University, for the deaf and hard of hearing.)
By the year 2000, he had earned his PhD in Economics from Columbia, along with an MSHA in Health Administration from Virginia Commonwealth University.
As an adjunct professor, he taught courses in the Economics of Health Care in masters and doctoral programs at Virginia Commonwealth University (1999-2017), University of Virginia (2005-2014), George Mason University (2008-2010) and the George Washington University (2012-2013). In 2007, Graboyes joined the NFIB Research Foundation in Washington, DC, a non-profit advocating on behalf of small businesses, where he spent six years as a senior fellow for health and economics.
Graboyes is currently senior research fellow and healthcare scholar at the libertarian-leaning Mercatus Center at George Mason University (Arlington, VA), where his work asks, "How can we make health care as innovative in the next 25 years as information technology was in the past 25?"
In 2014–the same year Graboyes published Fortress and Frontier in American Health Care–he was awarded the Bastiat Prize for Journalism, an international award for "writing that best demonstrates the importance of individual liberty and free markets with originality, wit and eloquence."** Recipients in other years included Virginia Postrel, Amity Shlaes, Bret Stephens, Bari Weiss, and Mary Anastasia O'Grady.
"Bob Graboyes' concise, witty explanations of the power of technology and dangers of government interference perfectly exemplified the essence of the prize; he is a modern day Bastiat," said Julian Morris, vice president of Reason Foundation and founder of the Bastiat Prize, which comes with an award of $15,000. The Prize was inspired by the 19th-century French philosopher Frédéric Bastiat's defense of liberty. Using satire and allegory, Bastiat was able to relate complex economic issues to a general audience.
Podcasts and Sharing a Musical Legacy
But all that only begins to describe Graboyes' activities, interests and talents.
"I've spent the year diversifying my agenda," he told us. He created a podcast for the Mercatus Center's website Discourse, for which he'd previously contributed articles. In
Different, but Not Less: Temple Grandin and the Economics of Neurodiversity
, Graboyes spends an hour interviewing Dr. Temple Grandin, animal scientist and autism advocate, whom he describes as "one of the most fascinating and influential people on the planet". He has more podcasts planned. Next up: Dr. Pradheep J. Shanker, an Ohio radiologist whom Graboyes calls "the single most interesting statistical observer of the pandemic. He's from the center-right, good on the pros and cons of lockdowns and good on the efficacies of different policies."
"Podcasts are a way to introduce myself to a lot of people in economics and politics while things are shut down. I've typically done an enormous amount of public speaking. I asked myself how can I get my name in front of people," Graboyes explained.
"I also decided that just in case the coronavirus swept me away (which, happily, it has not, thus far), I may as well leave people some evidence that I've been a musician since age five and composer since age eight," he added. So, he began downloading his performances and compositions to
YouTube
, often pairing his works with the visual art of his wife,
Alanna Graboyes
.
Graboyes is an accomplished composer, with both original pieces and improvisations on everything from Brahms to "There'll Be a Hot Time in the Old Town Tonight" to the Jewish prayer "Avinu Malkeinu". (He is still a member of his childhood synagogue, about 23 miles outside of Richmond, even though he now lives 125 miles away in Alexandria, VA. Last fall, when High Holy Day worship had to be virtual, Graboyes composed and recorded musical interludes for the online services.)
His mother was a very good pianist who played by ear, as he generally does (and could by the age of eight). "We lived in a small town, but most of her friends were either musicians or artists. I grew up surrounded by music and art," he recalled. He started piano lessons at age five. By age six he'd taught himself to play guitar, which, due to its size, he had to hold like a contrabass. When he was tall enough, he learned contrabass as well. As with languages, just two or three instruments weren't enough: "Every summer, I'd take up a few–piccolo, soprano sax, alto horn, oboe, clarinet, trumpet, ukulele…"
But no, never the violin: There was no string section in his school band.
Primarily, though, he was a serious student of the notoriously difficult to play French horn; he was informally offered a full college scholarship if he would commit to it professionally, but already knew he had too many other interests.
Music helped Graboyes pay his way through college and graduate school, however, as he played in high-end restaurants and for various gigs. "I ate very well in college," he recalled happily. "They would pay me part in cash and part in free meals."
Paying for grad school had both musical and romantic components. Graboyes likes to joke that he married his wife, an artist then working as a librarian at Columbia, for a few reasons: She had a magnificent faculty apartment at Columbia, a video recorder (which practically no one yet owned
) and a brand new piano. He also received tuition exemption by marrying her. "And I loved her," he added (quite spontaneously). His wife is also multi-talented: Trained as a textile designer, she co-authored the first history of New York's SoHo art district.
Once he started working, though, his performances were confined to the occasional friend's wedding or charity events.
Graboyes began composing more around 2000 when he bought an electronic keyboard. When the family moved to the DC area in 2007, his wife and son bought him a high-end electronic piano and composition studio, and the composing took off.
During the pandemic, Graboyes has posted 20 new compositions (and partially recorded perhaps 20 more. Many, he reckons, are "considerably better than some old ones." Composing is fairly effortless for him, and the sampling capacities of the digital instrument enable him to score his works with a variety of orchestral sounds.
"I found that posting them on Facebook and then YouTube was a way to cheer up my friends," Graboyes said. It also cheered himself. "Staying in a house this past year, isolated from humanity, wouldn't make me happy." He also used the music to bolster relations with business contacts.
He describes his music as "eclectic, heavily influenced by mid-century jazz": "I do classical, but I inevitably turn it more into a jazz piece."
He doesn't write down any of it. Since it is digital, he could extract his sound files into score sheets, but the music is all in his ear.
Would he have wanted to make music his career?
"I always wondered what it would be like, but to really excel in music, that has to be the focus. If I did music fulltime, I probably would hate it–I couldn't concentrate 100 percent on it," he said. "I knew I wouldn't be a stellar French horn player. I suspect if I'd found a place in music, it would have been in film or tv scores, but I don't know if I could have been as adept as I've become without digital studios. I hated writing it out on paper. In the era when I would have been struggling to make it, it would have burnt me out quickly."
Graboyes says he's content to be an extroverted "musiconomist"…and all the other things he does so well.
---
**

UPDATE

(February 5, 2023): Graboyes has now left academia and is writing a substack (blog) he has dubbed

Bastiat's Window,

and it displays that same originality, wit and eloquence over a wide variety of subjects – with numerous references to his experiences at Chase. He just published a three-parter entirely related to and heavily laden with Chase Manhattan lore. Here's the first of the three installments:

Fun and Death in Lagos.

It's great reading!
Composed and Performed by Robert Graboyes

©
What Tumbling Cloud Did You Cleave?
This ambient piece was inspired by Graboyes' wife's painting Hawk Migration (below) and takes its title from William Butler Yeats' The Hawk. Hawks, he notes,
circle effortlessly on thermal currents, and I composed this piece in that spirit. I set the keyboard for grand piano and strings, looked at the painting, closed my eyes, and played, without plans, wherever my fingers chose to go. Then, I overlaid similarly spontaneous tracks of erhu (Chinese violin), Andean panpipes, and low synthetic brass.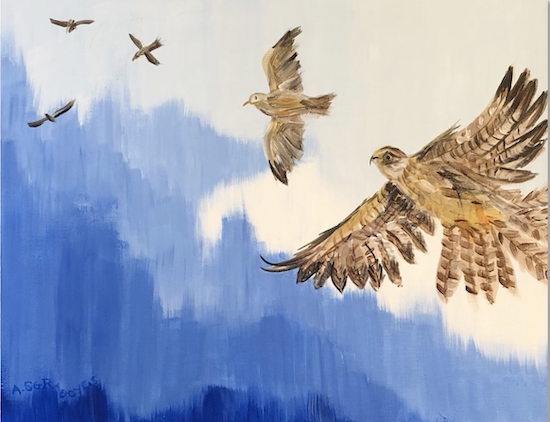 "I wanted to do something vaguely Edgar Allan Poe-ish. My piano doesn't have a raven sound, but I managed to replicate a cuckoo. Hence, 'Quoth the Cuckoo'. And, in fact, that phrase appears in The Book of Cupid, God of Love or The Cuckoo and the Nightingale, by John Clanvowe. Clanvowe's work was influenced by Parlement of Foules, by his friend Geoffrey Chaucer. My compositions are sometimes based on paintings by my wife, Alanna. In this case, Alanna's painting "In the Black Forest" was based on my song. It shows three cuckoos on a background the color of cuckoo clocks made from pine, linden, or other wood taken from Germany's Black Forest (Der Schwarzwald)."