In Memoriam: Doug Werlinich, 78
Worked for Chase in USA, Japan and UK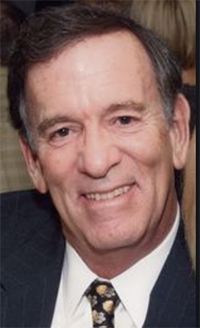 Douglas (Doug) Werlinich, who worked at Chase Manhattan from at least 1965 until 1982 in the United States, United Kingdom and Japan, died of cancer in Southport, NC, on March 8, 2021. He was 78 and had lived in Southampton, NY, before moving south a couple of years ago.
Werlinich grew up in the Pittsburgh area before attending Northwestern University in Evanston, IL, for both his undergraduate degree and MBA.

While at Chase, he worked in Asia Finance, Capital Markets and Consumer/Retail Products North America.
After leaving Chase, he worked at Midland Montagu and Citibank.
His wife of 25 years, Elizabeth McKee Werlinich, died of cancer in 2000. Among his survivors are a son, Greg, three grandchildren and his brother Gary. Another brother, Tom, predeceased him.
From Joe Murphy (3/29/21): Over the years Doug and I have occasionally exchanged emails and some humor notes.
When our Global Credit Class met for its early 50th anniversary reunion in October 2019, Doug was invited too. He had been on the training staff before we arrived in 1970. More importantly, Elizabeth McKee Werlinich was a member of Global Credit I.
My introduction to Doug was for my 1 CMP credit interview– a key component of a day filled with meetings assessing candidates. Doug was calm and reassuring as he shared this conversation that would be the most important of a long day at Chase. We spent an hour together. Somewhere in the midst of his questions on seasonal lending analysis, I mentioned my fiancée was moving to NYC from Pittsburgh. The pace and conversation changed as Doug asked my opinion of Pittsburgh and its surroundings.
While at APAO Doug would stop by my office to check in on how I was doing. Simply stated, Doug was a gentle man who was a mentor, long before mentoring was popularized. Rest In Peace.
From George Keenan (3/30/21): I worked with Doug in 1977 in Tokyo helping Jim Zeigon open the OOA regional office, covering Japan, Korea and Guam. Doug was essential to this effort. He was a good guy.
From Cyrus K. Hui (4/1/21): Doug came to Chase Tokyo as GM in 1977 or so when I was Team C Leader (John A. Ward and John Oakes heading up Teams A and B). Doug was the one who promoted me to VP (his predecessor being unwilling for whatever reason).
As my assignment in Tokyo was approaching five years, it seemed time to move on. Doug was most considerate asking me where I would like to go next. After Hong Kong and Tokyo, it seemed "logical" that London would be nex
Doug took it personally to contact Al Marple of CML for a position in Corporate Finance, so there I went.
Having lost contact with Doug for some 40+ years, I got in contact with Doug via Facebook two years ago, promising to get together when I visit NY next. Sadly that is not to be the case.
Doug remains in my memory, nothwithstanding a time lapse of 50 years.
From Dave Kuhn: Doug was my first boss after leaving Global Credit in 1972. I had been introduced to Doug through my friend and Credit Program colleague Elizabeth McKee. Doug had been asked to create a Statewide Expansion Planning unit to extend Chase's New York footprint into each of what were then the eight banking districts outside of the five boroughs, Westchester and Nassau counties. Kent Fairfield and I were recruited to help him acquire banks, charter new ones and select the initial branch sites for these new banks. It was a great initial assignment, and I've always been grateful to Doug for giving me that opportunity.
Doug was a very smart guy, a pleasure to work for and a great role model for a rookie banker. I'm glad to have known him.
From Roger Griffin (4/19/21): I was fortunate to have Doug as my boss three times during my career at Chase and for the work relationship to morph into friendship. The first time was when I moved from London to the 7th floor and Doug occupied the rear window desk and helped this particular newcomer find his feet on his side of the pond. The second was back on "my" side of the pond and Doug was head of credit and marketing and accompanied by Elizabeth (Betty McKee as I first knew her as one of the students in the first credit course I taught). The third was when Doug was Japan Country Manager and I was the Osaka branch manager and in my first non-staff executive role in Asia. My job was not a significant one in the context of Chase Japan as it then was, but Doug went out of his way to make sure I felt part of the team and had his ear when I needed it. It was a most enjoyable experience and kindled my affection for the country and people and encouraged me to go back for an extended stay after I left Chase. Doug was all the things that Joe, George, Cyrus and Dave have described and I would emphasize a remarkable ability to separate the professional from the personal in his interactions with people of whatever relative seniority and is why I remember him as a friend rather than as a boss.
From Bob Mathews (4/20/21):
I observe a common thread in the comments by persons who worked with Doug Werlinich, nearly 50 years later in some cases, He is consistently remembered as someone who went out of his way to take a personal interest in his colleagues. He was always a gentleman, but, at the same time, as a manager, he was disciplined and expected the highest standards. He did not hesitate to speak his mind, rather than say what he thought someone wanted him to say.
I first met Doug when he arrived in Japan during the transition period following the chaos in international financial markets post-1973 oil crisis and Bank Herstatt. In the aftermath, when market conditions were easing, he initially asked his team leaders to remain in place and, in return, he helped them secure their next positions.
He was the kind of person who introduced himself to his most junior credit and marketing officers, Jim Shinn, J.D. Jensen and myself, by inviting us to dinner at his house to get acquainted. After that, rather than summon me to his office, Doug would take a seat at my desk and diplomatically deliver his message.
As Country Manager of Japan, Doug was tireless in meeting his entertainment obligations to the customers who were its economic base and to the people who worked for Chase as well. A palace, by Tokyo standards, was occupied by all country managers in the 1970s. Doug and his wife, Elizabeth, were gracious and welcoming to all. They would say, "This is your house, not ours." Doug was an ideal Country Manager for Japan, where trust and personal relationships are critical. He would not leave Tokyo until he had completed the restructuring of the aging workforce and keep the promise he had made that they could retire with honor. This quietly ended years of labor tension at Chase Tokyo.
I had an opportunity to work closely with Doug 15 years after Japan in 1994 and it was clear to me that he loved his wife, Elizabeth, dearly and respected her work in Asia for Estee Lauder. Doug admired her courage and was devastated when she lost her battle with cancer, ending her life prematurely 20 years ago. I was fortunate to have had the opportunity to be acquainted with and admire both of them.
From Tom Herlihy (5/12/21):

Suzanne and I knew Doug and Elizabeth since the 1970s, both as co-workers and good friends. Doug was always honest, thoughtful and generous in all he did. He will be sorely missed by us, and the many others whose life he touched. Rest in peace, our dear friend.