In Memoriam: 2009-2014
Three from Manufacturers Hanover Leasing
John J. Kettle
Karl M. Parrish, 76
Douglas Hutter, 65
Thank you to Bill Lee for informing us of these passings.
►John J. Kettle, a VP in the Controllers area of MHL, died on September 29, 2009. He was a resident of Central Islip, NY.
►Karl M. Parrish, founder and chair of Manufacturers Hanover Leasing, died in Greenwich, CT, on January 20, 2014, at age 76. He was a graduate of North Carolina State University, with honors in Engineering, and the Harvard Business School. Parrish began his career in New York City with Eastman Dillon and subsequently with Manufacturers Hanover Bank. Under his leadership MHL grew to be one of the largest and most profitable equipment leasing companies in the world. He was also a longstanding member of the board of directors of the American Ballet Theatre in New York City and an active member of the Harvard Club of New York City, among other organizations. Although a long term resident of New York City, he was also a resident of Aspen, CO, where he was active with the Aspen Institute.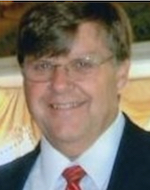 ►Douglas Hutter, 65, of Westbury, NY, died on July 19, 2014. He had worked for many years in the Finance and Accounting areas, mainly at Manufacturers Hanover Leasing.