A Moment in Bank History
Memories of Woolgate House from the "Plant Man"
Keith Wheatley Writes of Plants, Flowers and an Era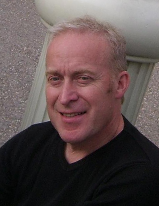 Ah, those lovely Saturdays in Hertfordshire in May where the fresh new light green leaves on the trees in the garden are filling those voids where one can see the neighbour's houses. A message from a regular Whatsapp group mentioned how dull and dreary the day was, but I just thought how lovely and refreshing. We have had pretty good weather in the last month or so and can't complain. Rain was a blessing for my garden maintenance work a few years ago.
Reading through the review section of The Telegraph, I came across an article about the forthcoming series about the Mitfords. Lord Redesdale was mentioned and I recalled Clem Redesdale who worked for Chase Manhattan bank when I had a contract there in the 1980s. My phone was at hand and I decided to see search for Lord Redesdale to see whether an image of Clem would appear. There were none I recognised, but the search did lead me to an image of the beautiful and charming Judith Dunn, who I now know sadly died in 2016. The image led to the Chasealum.org website and those long forgotten memories of Chase Manhattan were stirred in to life. I was the 'plant man' or 'flower man' from 1982 to around 1994.

After school I started work for The Post Office, later British Telecom as a technician and worked on microwave communications in the Post Office Tower. Life went a quite a slow pace there and when my father, Billy, was offered a contract to maintain the gardens and internal plants at Woolgate House, I asked whether I could have that contract and start up on my own. My father readily agreed as he didn't have the staff available at the time. A crash course on plant display maintenance followed and the combination of enthusiasm and 'winging it' paid dividends.

Inevitably, as the years pass, memories fade, but I hope some of my memories will interest any Woolgate House staff.

An early memory was the refitting of the reception area. I don't recall the original layout, but an enormous oval reception 'desk' in black stone was installed shortly after I started working there. The figure of £10,000 comes to mind. It didn't seem to be there for many weeks before it was replaced by something else! There was artwork by Gilbert and George in reception. It was probably a good investment but simple in style. Fortunately that one didn't have a poo in the corner like later works. It could have been this one:

There were also paintings throughout the corridors, many of which were uninteresting to me, but here and there I found some that were really attractive, such as the very large goldfish on a red background. The artist escapes me!

I can also recall the mail man who, when asked how he was, would always reply "Never felt better, you know that? never felt better!" All of these recollections will be jumbled timewise and I apologise for their random nature.

My contract was handled by the maintenance department run by Roy Gillingham and Roger Varnalls. At one stage, their department was the floor above or below the installation/projects department in E core and it sometimes seemed that the departments were competitors as opposed to colleagues. I also recall an assistant named Sally who worked in the maintenance department.

There was a contemporary fountain in the courtyard, and every few years some wag would fill it with fairy liquid or similar and the maintenance man (you know, the one with the overalls unbuttoned and the gold chain) would have to empty it out. It must have been around the time Woolgate House was being demolished that I was driving through a village in Hertfordshire. I glanced to my right only to see that same fountain stored in a yard.

What about that time there were protests against something the United States was involved in and Roy Gillingham surrounded the whole site with site hoarding topped with barbed wire. Another £10,000 comes to mind. Roy wondered whether he had gone overboard with the hoarding as the protestors didn't come to The City, but I suggested he imagine the cost if the protestors had turned up and broken in, rampaging throughout the whole building.

Possibly around the same time a 'bomb detector' or X-ray machine was installed near the mail room, but it didn't seem to be used much as I don't think anyone had been instructed in how to use it.

Every year my father would install a 25ft-tall Christmas tree in a barrel in the courtyard. He charged just a couple of hundred pounds. Cheap even in those days as it included dismanting and disposal! He won a series of awards from The Worshipful Company of Gardeners; a number of years later I won the same awards and was presented with the same silver cup for work in Allen & Overy. After receiving the award I was naively going to carry it to A&O offices whereupon the award presenters suggested I should cover it up with a carrier bag.

I remember the beautiful verdigris-covered coat of arms in the basement outside the staff restaurant. There were a few planted troughs in the basement area. After having replanted them one day and having thrown the old spiky plants in a skip in the rear courtyard, the next time I came in the old plants were back in the troughs and the new ones had strangely disappeared! I mentioned this to security and they didn't want to talk to me for some time after that. Goodness knows why.

I would go in most offices in Woolgate House. In Clem's office there was a lovely picture of all of his daughters. There seemed to be six or even seven of them. I believe it was on the same floor (the floors were enormous) that there was a department where all the female staff were absolutely stunningly beautiful. What a coincidence! I can't quite recall where Bert Habgood's (Robert P. Habgood) office was, but he would sometimes tell me he had watered his plant as it seemed a little dry. He seemed very interested in plants. Bert and his wife Carole were lovely people. I took some indoor plants to their apartment in the Hyde Park Lane area once. As I was leaving, their neighbour on the floor below asked me not to overwater the plants on the balcony as his balcony would get covered in water and soil. I politely referred him to the Habgoods.

All of the VPs had an engraved name plate. As some VPs were from the United States, some of the names seemed a little exotic to me. Horton P (something) III comes to mind.

There were a few isolated cases of staff pouring their unwanted drinks in to the flower pots. "It's only water!" they exclaimed. There was on at least one occasion a trail of coffee/tea drips along the desk leading to the desktop plants that were arranged in rows of three/four. One of the girls who worked for me watering the plants discovered that some drinks' waste had been poured into a plant display in an executive office. It was the office of Bob Hunter, the most senior guy in the building. Janet wrote a request to stop pouring drinks on the plant on a Post-it note and left it on Bob Hunter's desk blotter. When she told me, I was horrified and wrote another Post-it note apologising! That probably caused some amusement, and Bob explained that it wasn't him when I went to water his plants some days later. I hope I apologised again.

In one private office there was a 6" circular section of a tree trunk with a hole in it, and the plaque explained it was from the original pipe that supplied New York with water. I was never sure whether that was a spoof or not. Who has that now?

I can't think of any other stories about Chase, but I hope these memories trigger some in other people. My business card now reads 'Rock promoter and pot dealer'. I have to add the hashtag #badlyexplainyourjob and go on to explain that I hire and sell artificial rocks for film and exhibitions and I supply plant and flower pots various!

Above: Keith Wheatley when he was Woolgate House's "plant" and "flower" man.

Right: Wheatley nowadays, working out of Broxbourne.
Comments
Send comments or your own "A Moment in Bank History" story to news@chasealum.org.
Added 5/14/21 by Keith Wheatley:
Look what I found! I must have walked very near this when going in to the doors just 20-30 yards away. As I recall, it was originally in the center of a circular water feature in Woolgate House courtyard. Some jokers would pour Fairy Liquid (washing up liquid) into the water, which would then create loads of bubbles/foam. The sculpture is almost back to where it was in the 1980s.