Moments in Bank History
Honoring an Employee over the Years
How Ohio Banks Said Thank You with Jewelry
Sometimes a bank's history isn't written in the Executive Suite but in the daily lives of its everyday employees, whose steady dedication to the job gives them a sense of purpose as well as an extended family.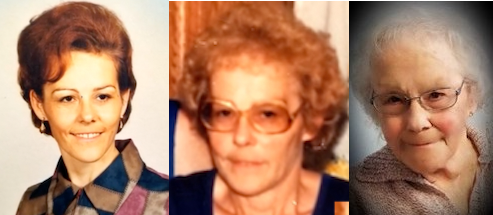 Cathleen (Cathy) Swinehart died at the age of 81 in Akron, OH, on June 23, 2020. Her death notice noted her devotion to her church and her very close bond with her cousin and the cousin's children.
"She was kind and gentle, and had a generous and caring spirit," the notice read. "She truly was an earthly angel. Cathy enjoyed watching sports, especially her Indians, Cavs and Browns, and she enjoyed listening to Elvis Presley. Most of all though, Cathy enjoyed her entire family. She was loved deeply and will be missed by many."
Among her possessions were some treasured mementos from her banking employers. Ms. Swinehart worked in administration for Bank One, and its predecessor bank, Firestone Bank*, for more than 25 years. Clearing out her house, the very close cousin, Chastity Baldwin, came across items Ms. Swinehart earned as rewards and awards for her outstanding achievements. "Cathy was very well known through the Bank in her day, especially for her willingness to learn and help others," Ms. Baldwin wrote to us, sending the photos below.
Left to right: two 14K gold necklaces from Firestone Bank, and her gold and diamond ring from Bank One for 25 years of service.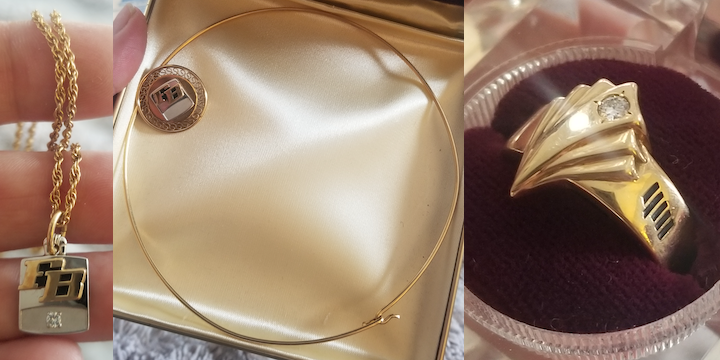 * The Firestone Bank was established in Akron, OH, in 1916 and acquired by Bank One of Akron in 1983. Here's the full history whereby anyone who worked for Firestone is eligible to become a member of the Chase Alumni Association! (https://www.usbanklocations.com/the-firestone-bank-736.shtml)
| | | |
| --- | --- | --- |
| 1916-09-28 | | Institution established: Original name: The Firestone Bank |
| 1979-12-17 | | Acquired The Firestone Bank of Wadsworth (21334) in WADSWORTH, OH |
| 1982-03-01 | | Changed name to Bank One of Akron, National Association (2293) |
| 1982-03-01 | | Merged into and subsequently operated as part of Bank One of Akron, National Association (2293) in AKRON, OH |
| 1983-09-01 | | Acquired Bank One of Ravenna, N.A. (6632) in RAVENNA, OH |
| 1983-09-01 | | Changed name to Bank One, Akron, National Association (2293) |
| 1988-03-01 | | Acquired Bank One, Alliance, National Association (6517) in ALLIANCE, OH |
| 1991-09-13 | | Acquired The Central Trust Company of Northeastern Ohio, N. A. (6541) in CANTON, OH |
| 1991-09-13 | | Acquired Bank One, Wooster, National Association (6733) in WOOSTER, OH |
| 1997-05-17 | | Changed name to Bank One, National Association (6559) |
| 1997-05-17 | | Acquired Bank One, Lima, National Association (19152) in LIMA, OH |
| 1997-05-17 | | Acquired Bank One, Dayton, National Association (6570) in DAYTON, OH |
| 1997-05-17 | | Acquired Bank One, Sidney, National Association (6699) in SIDNEY, OH |
| 1997-05-17 | | Acquired Bank One, Cincinnati, National Association (6643) in MILFORD, OH |
| 1997-05-17 | | Acquired Bank One, Athens, National Association (6522) in ATHENS, OH |
| 1997-05-17 | | Acquired Bank One, Marion (8402) in MARION, OH |
| 1997-05-17 | | Acquired Bank One, Cambridge, National Association (6538) in CAMBRIDGE, OH |
| 1997-05-17 | | Acquired Bank One, Portsmouth, National Association (6677) in PORTSMOUTH, OH |
| 1997-05-17 | | Acquired Bank One, Coshocton, National Association (6564) in COSHOCTON, OH |
| 1997-05-17 | | Acquired Bank One, Youngstown, National Association (6738) in YOUNGSTOWN, OH |
| 1997-05-17 | | Acquired Bank One, Dover, National Association (6576) in DOVER, OH |
| 1997-05-17 | | Acquired Bank One, Marietta, National Association (6633) in MARIETTA, OH |
| 1997-05-17 | | Acquired Bank One, Fremont, National Association (13875) in FREMONT, OH |
| 1997-05-17 | | Acquired Bank One, Mansfield (10283) in MANSFIELD, OH |
| 1997-05-17 | | Acquired Bank One, Akron, National Association (2293) in AKRON, OH |
| 1997-05-17 | | Merged into and subsequently operated as part of Bank One, National Association (6559) in COLUMBUS, OH |
| 1997-05-17 | | Acquired Bank One, Cleveland, National Association (17219) in CLEVELAND, OH |
| 1998-04-01 | | Acquired First USA Federal Savings Bank (34168) in WILMINGTON, DE |
| 2003-08-08 | | Acquired Bank One, West Virginia, National Association (6768) in HUNTINGTON, WV |
| 2003-08-08 | | Acquired Bank One, Wheeling-Steubenville, National Association (13391) in WHEELING, WV |
| 2004-11-13 | | Changed institution class to INSURED COMMERCIAL BANK, NATIONAL, MEMBER FRS |
| 2004-11-13 | | Acquired Bank One, National Association (3618) in CHICAGO, IL |
| 2004-11-13 | | Changed name to JPMorgan Chase Bank, National Association (628) |
| 2004-11-13 | | Merged into and subsequently operated as part of JPMorgan Chase Bank, National Association (628) in COLUMBUS, OH |
| 2006-10-20 | | Acquired Bank One Trust Company, National Association (21377) in COLUMBUS, OH |
| 2008-08-16 | | Acquired J. P. Morgan Trust Company, National Association (34696) in LOS ANGELES, CA |
| 2008-09-25 | | Acquired Washington Mutual Bank FSB (33891) in PARK CITY, UT |
| 2008-09-25 | | Acquired Washington Mutual Bank (32633) in HENDERSON, NV as part of a government assisted transaction. |
| 2011-05-01 | | Reorganized. |
| 2011-06-01 | | Reorganized. |
| 2011-10-01 | | Reorganized. |
| 2011-10-14 | | Acquired Custodial Trust Company (25809) in JERSEY CITY, NJ |
| 2015-08-31 | | Acquired JPMorgan Bank and Trust Company, National Association (58729) in SAN FRANCISCO, CA |
| 2019-05-18 | | Acquired Chase Bank USA, National Association (23702) in WILMINGTON, DE |