Life After Chase: Robert Aberlin
How One Thing Leads to Another
By Robert Aberlin
(Below, right, with Marcelo Podesta at the CAA Latin America Reunion dinner in October 2019)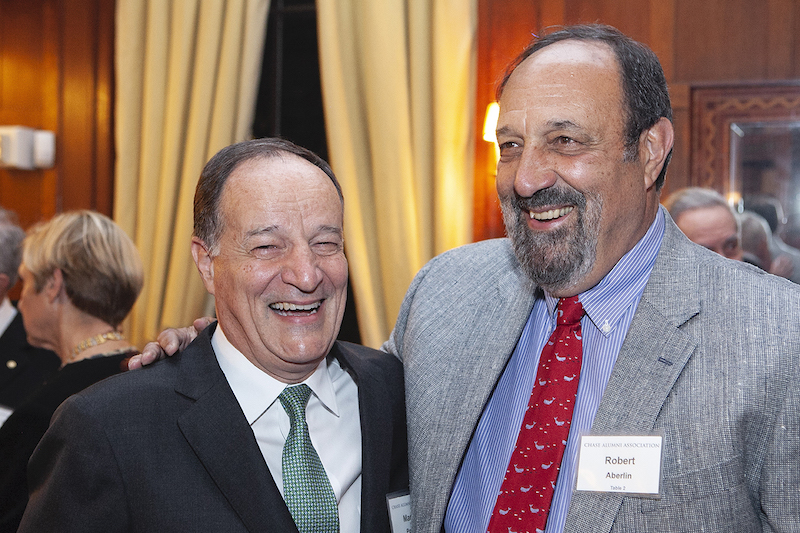 Although I had a wonderful series of jobs at Chase from 1969 until 2001, I didn't realize what a profound effect the later years (1992-2001) would have on my life. Those years were spent in Chase's Private Bank. While at the Private Bank three things happened that would change me forever.
1. I reconnected with an old associate who taught in the training program in 1973—Seiki Murono—who was heading the California office of the Private Bank.
2. I asked Alice Zimet in Chase Philanthropies about the possibility of going on the Board of a cultural entity, in part to market wealthy individuals as well as expand my interest in the arts.
3. I decided to go on the Board of my old school in Brooklyn—Poly Prep.
What happened next was a series of events that somehow became woven together and changed my life.
Seiki Murono
On one of our car trips, Seiki and I began talking about why his Japanese-Peruvian parents came from Peru to the USA shortly after the bombing of Pearl Harbor. What I learned was astounding. The US wanted to be able to exchange non-US aliens with Japan for American prisoners of war. The result was that in effect the US and Peru actually kidnapped approximately 2,000 Peruvians of Japanese origin, including Seiki's parents and two siblings, and ultimately sent them to an internment camp in Texas. Seiki was born in the camp in 1944.
The original governmental exchange idea allowed the Peruvians to confiscate wealth from the richer (2,000 out of 10,000) Peruvians of Japanese descent. This exchange never happened. Seiki's is a long story of a family overcoming tremendous dislocation and adversity, and it made me want to tell that story. After many attempts to publicize the reality of what happened, I contacted a college classmate who was a documentary film maker and began to plan out the making of a film. We never were able to get very far with that film, but somehow began discussing how the Vietnam War influenced our lives. That discussion resulted in a 10-year collaboration for a film that we made called Broken Brotherhood: Vietnam and the Boys from Colgate. (I am an alumnus of Colgate University.) The film ultimately appeared in a variety of film festivals and on the New York City and Syracuse PBS stations. So began a film avocation.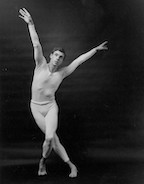 The Arts
As I explored philanthropies with Alice Zimet, she asked me what type of arts organization I was interested in. When I replied dance, her jaw dropped. She said she had a great deal of trouble finding a banker who liked dance and that Chase supported a variety of dance companies. She asked if I was familiar with The Paul Taylor Dance Company. I had in fact attended their performances for more than 25 years. In 1994, I joined the Paul Taylor board, and in 2004 I became the board chair. As I got to know Paul Taylor, I worked on him to let me make a film about his creative process. After four years of coaxing and cajoling, he finally agreed. In 2014 the film Paul Taylor: Creative Domain premiered at the New York Dance on Film Festival at Lincoln Center and was the closing-night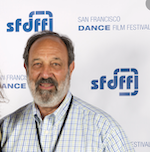 film. I was the film's Executive Producer. The documentary won several awards at film festivals and ultimately appeared in arts movie houses in approximately 30 states. I have continued on the Taylor board but had stepped down as chair in 2012. In January 2021 I agreed to become co-chair of the board.
Poly Prep—My Second Career
On July 1, 2001, the day after I retired from 32 years at Chase, I began a new career as the CFO of the high school I graduated from in Brooklyn–Poly Prep. At the beginning of the 2001-2002 school year, 9/11 happened. I had been talking about my Vietnam film to a friend who was the executive producer of a show on WNET called New York Voices, and we began to talk about the ramifications of the 9/11 attack. He was looking for something to show on the first anniversary of 9/11, and we began talking about what happened at the school. Poly Prep lost 11 alums, one parent and one teacher's brother (both firemen), as well as the aunt of one of our students. (She was the only policewoman lost in the attack.) The school established both a garden in the memory of those lost and scholarships in each alum's memory. Between April and August, I helped produce and orchestrate a film called Lessons of September ,which documented what happened at the school. The film was shown on New York Voices one year after the attack on the Twin Towers.
In addition to doing the financial work for the school, I taught one section of world history. After several years as a history teacher and with the encouragement of fellow Poly Prep grad Evvy Goyanes (who also worked at Chase for many years), I developed and taught a course in economics. Happily, several of my students went on to careers in Finance—with at least one at JPMorgan Chase.
On June 30, 2019, I retired as the school's CFO. The Head of School asked me to stay on, however, in a part-time position in an effort to enhance the experience of Poly students, alums and general school community by bringing both visual and performing artists to the school. I have had the good fortune to involve many artists in the campus and arrange new and continuing relationships with several dance companies and with the Brooklyn Museum of Art. In the midst of this year of COVID, I have organized and moderated six discussions of major films (on Netflix or Amazon) that had connections to Poly alums as producers, directors or actors. In addition, we have commissioned two pieces of sculpture for the campus and one original choral piece for the school's concert choir. I guess I am really now in my third career.
Comments
Send comments or your own "Life After Chase" story to news@chasealum.org.
If you don't want to write it, we're happy to interview you for an article.
From Jim Adamson (6/8/21): It was a great pleasure to read Bob Aberlin's account of his careers after Chase. I knew him as a good friend and classmate in Tony Terraciano's experimental 1969 Credit Course. Whenever I think of him I recall a story he once told me about being in charge of setting up the Chase branch in Costa Rica. The layout was standard Chase N.Y. branch design and all the furniture was shipped down from New York including the floor ashtrays for the lobby. Everything was set up but the ash trays needed sand. Bob suggested he could go down to one of Costa Rica's thousand of miles of pristine beaches and collect some sand, but the Premises Department insisted they had to use regulation Chase sand from New York. He never told me how much import duty they had to pay!
I send him congratulations on his many successes and wish him well for his future endeavors.
From Marcelo Podesta (6/27/21): I had the priviledge of knowing Robert Aberlin in Buenos Aires in the early 1980s. He was my boss and probably one of the most important mentors and role models in my carreer.
Robert's outstanding human nature and interpersonal skills, together with his acute, sharp and constructive credit and business judgment, contributed to creating one of the best working environments I have ever seen.
His wife Mary Beth, also an extraordinary person, adapted to a very different environment and culture very quickly, gaining the admiration of our colleagues and our families.
Regretfully, they had to live through the sad times of the Malivinas/Faulkland conflict. Mary Beth was expecting a baby and had to leave the country very close to delivery date as the conflict escalated.
During their stay in Argentina, they enjoyed the very good things that our country offers, including the lovely life at a countryside small farm they went to during the weekends. At this little farm, Robert looked like a natural "criollo", surprising his guests with top quality "asados".
I am not surprised by the amazing projects and activities reported in his paper. Robert was and is as we say in Argentina, un fuera de serie (extraordinary, one of a kind).