In Memoriam: A. Cushman "Cush" May, 87
A Singular Leader in Tokyo for Chase Manhattan, 1968-1975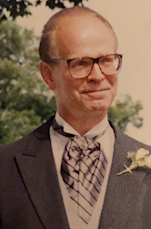 A. Cushman "Cush" May, a key individual in Chase's success in Japan and beyond

, died of cardiac arrest on June 5, 2021. He was 87 and had been living in Stamford, CT.
Born in New York, May grew up in Darien, CT. He attended the Middlesex School, graduated from Yale and did post-graduate work at New York

University.
May worked in Citibank's Petroleum Department following participation in the Citibank Training Program. He founded the Intercredit Agency Inc. in New York in 1959 and served as its VP and director until joining Chase Manhattan in 1961.
May's initial work at Chase included coverage of Canada, as the International Department began its growth surge. In 1968, Chase sent him to Tokyo as Japan Country Manager, shortly followed by assignment as Regional head, adding Korea, Taiwan and the Marianas. He left Chase in 1975 as a Senior Vice President.
On completion of his work with Chase, May held senior positions with Connecticut Bank and Trust,
the Asian Development Bank in Manila and Peregrine Capital Ltd., Hong Kong.
In retirement, May enjoyed gardening, hiking and reading. He served as President, Warwick Conservancy, Warwick, NY, from 2002 to 2003
His survivors include his wife of nearly 60 years, Jean Beattie May, his daughters Julia (Marc) Boddewyn and Emily (Brett) Pierce and three grandchildren.
Click here for additional information about May's life.
From Bill Flanz (6/7/21): During my 19-year career with Chase, I had quite a few bosses. Cush was one of the best. I say this, not only in the sense that it was a pleasure to report to him, but also importantly because I believe his management style got the best performance out of me for Chase.
Cush was kind, inquisitive and very supportive. Some managers "manage up" and some "manage down". Cush was one who managed down, and did so in a collaborative way, always leaving one encouraged, and knowing that he was on one's side. He was never a "button-pushing", detail-focused, second-guesser. This meant we always knew we had to accept full responsibility for our decisions and results. His support engendered a strong sense of accountability.
During my time in Japan reporting to Cush we made a lot of money for the Bank and had no credit losses, so his approach worked very well. In the meantime, Cush did an outstanding job of representing Chase externally in Japan, becoming one of the best known and well-liked bankers in Tokyo. He helped enormously to build our banking relationships, while also helping to create a number of profitable strategic businesses, including several joint ventures with the Mitsubishi Group.
I will miss Cush, but always treasure what I learned from him.
From John Ward (6/7/21): Cush was a great leader and we will miss him.
From Terry Horn (6/7/21): Both Amy and I were saddened to hear the news that Cush has passed away. While our paths did not cross during our time in Asia, we certainly heard his name often – Cush was definitely a legend. Fortunately Amy and I had the pleasure of meeting Cush and his lovely wife, Jean, after they had moved back to NYC, and during the subsequent years we had enjoyed a number of dinners together, reminiscing about years spent in Asia and current developments both in Asia and in the banking world. He will truly be missed.
From John Charlton (6/9/21): Word arrived this week that we'd lost Cush May.
For many of us, that cannot be the case. He was, and remains, our teacher and example, the storehouse of experience and poise we first think of, to help in tough times.
He formed and guided a landmark group, people of many backgrounds and passports, in Tokyo, Osaka, Taipei, Seoul and Agana, providing an ever-reliable sense of confidence in us, quiet correction as needed, with a manner of balancing our young ambition with an imperative of dignity and honorable standards – foremost, personal responsibility.
The people who found themselves chosen and placed in his orbit later spread into corners all over the Bank, and never lost our joint identity and sense of belonging.
He successfully brought about Chase's program to serve the Japanese business community well beyond the home country, positioning a tight network of Japanese officers in East Asia, Europe and America.
This formal, unpretentious man could, thank God, unbend.
None then present will forget an evening at the glorious Gordon Bunshaft residence in Tokyo; a sizable party of "his guys" and their best clients – a predictable time of cocktail chatter and positioning – but where was Cush?
Then: Jean May called us to silence, and introduced Our Largest Customer.
He shouldered his way into the crowded room, wearing his rather scant but complete Sumo uniform, as he was the reigning champion. Pleasantly, he made the rounds, as the floor trembled beneath his 350-pound-plus structure.
A. Cushman May appeared, all 5'8" and 135 pounds of him, dressed, if that be the suitable word, exactly as was the Yokozuna.
The floor was cleared; sacred salts were thrown; a (brief) match ensued; and the Victor gained lifetime rights to free banking at Chase Manhattan.
From Cyrus Hui: So sad to learn of Cush's passing. Recall we saw him and Jean last must have been 10 years ago.
I first met Cush in 1973 when he came to Hong Kong celebrating the founding of Diamond Lease HK where I was seconded from Chase NY. Somehow, Cush took a "liking" to me; he requested Jim Bish transfer me to Tokyo; so I and my family moved to Tokyo in 1974 where we spent the next 4+ years.
That was the most meaningful part of my life, learning and making lifelong friends that we have kept up to today.
I recall that as I was in off-shore ship finance and oil companies in the midst of "Oil Shocku", which was deemed "high risk", I had trouble getting approval from my "superior" and had to "appeal" to Cush, who backed me repeatedly as he had trust in his subordinates.
Other than business, Cush was kind to include "junior staff" like myself in numerous social events. Shirley and I have fond memories of special yakitori, tempura, sushi meals we enjoyed with Cush and Jean.
It has been 40+ years since our Tokyo days; we are all old folks, but sweet memories remain.

Cush is always in our memory.
From Bill Foulke (6/28/21):
Cush May was my first real boss. I had joined Chase in the training program and workd briefly in New York in the Asian Area, after which I went to Tokyo. Wendy and I and our toddler son arrived in June of 1971. It was rainy season and stiflingly hot. We were exhausted after the long flight. We were driven to our new apartment, a concrete structure built by American Lutheran missionaries to withstand earthquakes. It had nothing Japanese about it. Wendy cried and said she couldn't live there. The next morning I went to the bank in the Old Tokio Kaijo Building to meet my new boss, A. Cushman May, whom I had never met. After brief pleasantries, he asked how our apartment was. I sucked up my courage and told him about Wendy's reaction. Without blinking an eye, he said, "Go find something she likes. You'll both be much happier." This was vintage Cush May. Whether he knew it or not, he had just made me a devotee. I worked hard to repay his trust. He taught me a lot, and we had a lot of fun.
Practicality was one thing he taught me. Though not speaking more than a few words of Japanese, he was well respected by the staff in Tokyo. Very
soon after starting to work there, I witnessed an example of his ability to bend with local customs and culture. There was a very long strike in effect against the bank, which had laid off employees at the military banking facilities in Yokosuka. The previous Chase General Manager had ignored the strike, to no good effect on employee morale, and bemused but not complimentary reaction
from clients. After Cush arrived, the union decided to apply pressure by staging a brief but effective demonstration in the Tokyo office almost every morning. At 11 am, all work would stop for about five minutes while union representatives with red arm bands came up to the officers' platform with megaphones. Cush May came down from his office, which was on a higher floor. We all stood. The demonstrators then chanted into their megaphones: "Chase Gingko—HANTAI !" (AGAINST!). Clients stood still. After a few minutes, the demonstrators went back to their desks. Cush went back upstairs to his office. Not too long afterwards, the strike was settled. Cush had recommended the settlement to Head Office. He was a very principled man, but also very practical. His relationship with the Japanese staff and ex-pat officers alike
was outstanding, and he built strong relationships with Japanese and multinational clients.
Clear delegation of responsibility and accountability was another thing he taught me.He expected good results, and as Bill Flanz noted in his remarks, Cush usually got the best out of people, leading by example, not by dictum.
The effectiveness of regular written reports was another thing. Each week, he submitted a report to Frank Stankard about Japan and the rest of Cush's region. I don't think that Frank had asked for a weekly report. Cush just did it. It was a model of clarity and concision. Consequently, Frank didn't bother Cush much. He knew very well what was going on in Chase's Far East Region.
Cush was open to new ideas and initiatives. Early on in my assignment, he sent me with a senior Japanese officer to cultivate business in Southeast Asian countries, where Japanese and American multinationals were expanding business rapidly. His support of these initiatives paid ofHe similarly encouraged us all, which we remember to this day.
No mention of Cush May would be complete without noting his charm and sense of humor. John Charlton related a famous and amusing incident with the Yokozuna. There were many others. I was honored to work with this fine man and privileged to become lifelong friends with him and Jean. We miss him but will never forget his leadership and his friendship.
From Jack Taylor (6/29/21): For all of us serving in Asia from 1968-75, these were The Chase Manhattan Bank's "Golden Years", a time when the Bank was clearly a leader among foreign financial institutions, not only in Japan, but across the Region–thanks to Cush May's leadership, his poise, his personal style, values and professionalism. Team work came naturally to Cush, and he made it infectious. We didn't debate who got credit for what, we simply pulled together and made it happen: Chase leadership with the Japanese and including across my world in those days - Hong Kong, Thailand, Malaysia and Singapore. The Bank steadily grew and developed, we functioned as a team, we were proud of what we had accomplished together. Among the highlights, frequent visits to Tokyo, always revolving around dinner at The Bank House with "Cush and Jean"!!!! But personal relationships with Cush and Jean were not limited to just The Asia Years with The Chase. For many of us, they continued through a lifetime. When Cush was serving as Director of The Asian Development Bank's Private Sector Department in 1993, and finding it very challenging to identify a successor, he found me, and championed my candidacy with The ADB, a career change that was to change my life. I owe it to Cush. He and Jean welcomed the Taylors to Manila like Family. We will miss him, but the memories, they live on!!!
From
Gillian Van Schaick
:
I wish I had known Cush May! Cush was by all accounts a wonderful man, colleague, boss and friend. It is impressive that so many former Chase colleagues felt moved to write! Clearly a life well-lived.