In Memoriam: Claude R. Pellegrino, 71

Developed NEMESIS for Chase Manhattan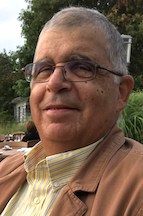 Claude R. Pellegrino, 71, of Niantic, CT, died June 12, 2021. He was a VP at Chase Manhattan in Treasury–Asset Liability Management and was a maverick in Risk Management, as father of NEMESIS in the late 1970s, for internal balance sheet accrual risk analysis.
Born in Brooklyn, Pellegrino was a graduate of Brooklyn Technical High School and Brooklyn College. He briefly taught mathematics at Brooklyn Technical School before serving in the United States Army for two years. After his military service, he joined Chase Manhattan Bank in the Management Science division. At the time of his retirement he was Vice President of Market Management Risk with 30 years service. When he made Vice President, he was the youngest employee to have this title.
In the early 1980s a version of NEMESIS was developed for the PC and sold around the world for 10 years until sold to a competitor.
Pellegrino met his wife of 41 years, Susan Zimmerman, while developing NEMESIS. In 1980, they purchased an 18th century home in Hanover (Sprague) ,CT where he spent many happy hours renovating the house and managing the forestland.
He was elected to the Sprague Board of Finance in 1992 and served four six-year terms. He also served on the boards of the Integrated Day Charter School, Avalonia Land Trust and the Uncas Health District.
Pellegrino co-authored a technical report for the Department of the Army and an article on internal ratings migration for The Risk Management Association.
He achieved many awards during his lifetime, including a Commendation for Special Achievement from the Department of the Army, Best in Class in his New School Philosophy class and Sprague Democrat of the Year in 2019.
Pellegrino was a masterpoint bridge player and a member of MENSA. He loved trains both large and small. He was an armchair traveller enjoying tales from his wife's travel adventures.
Survivors include his wife and children, Seth Pellegrino of Portland, OR, and Emily Pellegrino of Colchester.
Memorial donations may be made to the Integrated Day Charter School Foundation, Friends of the Shetucket River Valley, and the Children's Museum of Southeastern CT.
Remembrances
Please send to news@chasealum.org.
From Mary Malloy: It was with such great sadness that I learned the news of Claude Pellegrino's passing. He is the first of our beloved Chase ALMAC (Asset-Liability Management Committee) crew to leave us and far too young at the age of 71 years. I had the pleasure of working with Claude from 1993 to1998 in Chase's Treasury Department at 1CMP - 30th floor. Claude led the modeling of Chase's net interest income forecasting process, predicting various potential outcomes for Chase's large balance sheet and P&L results. He ably supported Debbie Duncan, Arjun Mathrani and Richard Canty as Chase's Treasurers during those days, and there were many challenges between skyrocketing interest rates and heightened regulatory scrutiny. Claude and Lou Quirolo were the indomitable duo, and we had great team camaraderie.
Long before the industry had evolved its quantitative disciplines in risk management, Claude had developed Chase's homegrown NEMESIS system. It was a quant's dream tool, as Claude painstakingly modeled every Chase product, book and position–including the then novel and growing interest rate swaps and derivative books.
I remember Claude as an intellectual powerhouse. He was also amazingly humble, always respectful, never condescending, and was a teacher to many, including me. HIs work enabled the businesses (especially Consumer), to better understand their pricing and option embedded risks. I recall how Tim Plesko worked with Claude on enhancing NEMESIS reports to demystify them, and then there were the debates with Chris Moroney and Bob Selvaggio from Consumer ALMAC challenging the assumptions / outputs. Claude enjoyed those debates best, as it just made NEMESIS better.
As much as Claude cared for and developed NEMESIS, it was no match for the love and care he gave to his family, especially his daughter, Emily. I admired Claude for being the gentle man that he was and the great devotion he showed in caring for his family. This is what I remember most. Godspeed, Claude.