In Memoriam: Gerard "Jerry" Sullivan, 80


Managed Chase's 1 New York Plaza Branch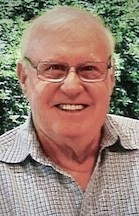 Gerard "Jerry" Sullivan, 80, of Passaic, NJ, died in his home December 9, 2020.

He was a top branch manager for Chase Manhattan Bank.





Born in Chicago, IL, he grew up in the Kingsbridge neighborhood of The Bronx, NY.

After graduating from St. John's School and Manhattan Prep, Sullivan earned his BBA from Manhattan College and completed master's level courses at Baruch College. He worked evenings for 12 years, overseeing P.S. 7 after-school programs, and served five years in the New York State Army National Guard.





Sullivan enjoyed a successful professional career with Chase Manhattan Bank. Awarded Manhattan Region Branch Manager of the Year in 1986, he consistently ranked in the top 10 percent of 200+ branch leaders. As Second Vice President, he managed Chase's prestigious 1 New York Plaza branch in the Financial District. Before retiring, he managed branches with several regional banks in New Jersey.





Predeceased by his wife of 46 years, Kathryn, Sullivan is survived by his three children, Vincent, Carol and Irene, his sister and several nieces and nephews.
Remembrances
Please send to news@chasealum.org.
From George Renert: Always a Gentleman. He respected his employees and colleagues and was one of the " Good Guys". RIP Jerry