In Memoriam: Thomas C. Creamer, 72

Assistant to the Late Tom Labrecque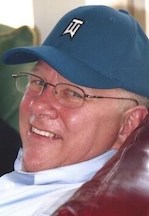 Thomas C. Creamer of Somers, NY, died of cancer on July 4, 2021. He was 72.
Raised in Chappaqua, NY, he graduated cum laude from New England College. He was employed by the MTA right after college and five years later moved on to work for The Chase Manhattan Bank for 13 years in various financial roles, including as assistant to Thomas Labrecque when Labrecque was chairman of Chase Manhattan.
After leaving the bank, Creamer pursued a successful 20-year career in financial services as an agent with MassMutual, obtaining numerous financial designations.

Creamer was considered a larger-than-life person with his happy smile and an infectious laugh. He loved to cook, loved to sing loudly along with all types of music and loved sport cars. He was an avid Yankee fan all of his life and will be remembered for his "dancing" on the jumbotron at the old and new stadiums.
Among his survivors are his wife, Patricia Creamer, daughter, Christine E. Creamer, and sons, Thomas C. Creamer, Robert M. Creamer and Michael W. Creamer.

Private cremation services were held earlier. Family and friends are invited to attend a Memorial Mass to be celebrated at St. Joseph's Church in Somers on Saturday, August 21, 2021 at 11:30 am.


Remembrances
Please send to news@chasealum.org.
From Mary Molloy: Over the last several months, Tom suffered battling cancer, but even in those most trying of times, he was a fighter. He had a great love for all things Chase and the Yankees (though I did miss his famed Jumbotron flash dance). I met the gregarious Tom Creamer in 1994 in his role as Assistant to then Chase Chairman and CEO, Tom Labrecque. Tom Creamer coordinated Labrecque's schedule, and I worked with Tom to coordinate issues coming before the Asset-Liability Management Committee where Labrecque needed to be briefed. Tom was a pleasure to work with and always had such an engaging manner and none of the bluster you might expect from a CEO's assistant. I kept in touch with Tom when he moved over to the Private Bank where he met Patricia, the love of his life. He and Patricia were happily married for over 20 years. Tom was involved in many financial roles in both the global Private Bank and MIC group. In those days, folks might get tapped to go to Hong Kong, Luxembourg, London, etc. for an assignment for a few years, and Tom often coordinated these. Jim Zeigon was head of the Private Bank and John Gage was EMEA CFO. There were lots of challenges then and Tom was getting the best talent on the ground. Always earnest, warm and personable. May the next life bring you peace, Tom.
From Lisa Barbaro: I had the privilege of meeting and working with Tom in Private Banking International. Over the years, I became friends with Tom and his wonderful wife, Patti. He was a great human being who always welcomed you with a warm smile and helpfulness. He will be missed.