In Memoriam: Charles (Charlie) McCabe, 84


Former Chase EVP of Marketing & Corporate Communications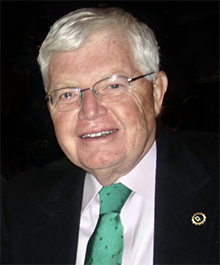 Charles H. McCabe Jr. of New Rochelle, NY, who, in his 31 years at Manufacturers Hanover Trust, Chemical and Chase, founded the MHT Corporate Challenge races and retired from Chase as executive vice president of marketing and corporate communications, died at home on August 30, 2021. He was 84.
Born in the Bronx and raised in Larchmont, NY, he was a graduate of Archbishop Stepinac High School and College of the Holy Cross. McCabe received his MBA from Iona College in 1968. He joined the 71st Regiment of the New York Army National Guard in 1959 and was honorably discharged in June of 1964 with the rank of Sergeant.
McCabe began his career with Remington Rand Univac, followed by Shaw Walker Co,. selling accounting systems. In 1963 he joined First National City Bank.Three years later he was hired by Manufactures Hanover to work within their automated accounting service division. Manufacturers Hanover merged with Chemical Bank, which then merged with Chase. He retired from Chase Bank in 1997 as Executive Vice President of Marketing and Corporate Communications.
It was during the early years of his employment here that marked some of his fondest memories. From the founding of the NYC Marathon in 1976, to the major early sponsorships of the Mets and Yankees. He liked to joke that he completed 25 or so marathons, all in the comfort of the pace car. He also founded the Corporate Challenge series of races which became the world's largest road race. He also helped shape the Westchester Golf Classic into becoming the most successful charity fundraiser on the tour.
McCabe served on Iona College's Board of Trustees for three decades. In recognition of his dedication to Iona College, he was awarded an honorary degree in 1988 and the Brother Edmund Rice and Brother Cornalia awards, in addition to being elected to Iona College's Hall of Fame in 1991. With his plaque on the wall of the Hynes Center, he was the first person to receive this award that never scored a point or bounced a ball for the college but who instead held the record for the most tables sold at an Iona fundraiser.
McCabe sat on the board of Our Lady's Hospital for Sick Children in Crumlin, Dublin, Ireland. He became an Irish citizen in 1992. After purchasing a house in Mullaghmore, County Sligo, he and his wife made regular trips to Ireland over the years. He was named one of the top 100 Men of the Year by Irish America Magazine for the years 1994 through 1997. He also received the Ellis Island Medal of Honor in 1986.
Closer to home, McCabe was a board member of New Rochelle Hospital, now Montefiore. He was one of the founders of the New Rochelle Police Foundation. In the 1980s, he was made an honorary NYPD commissioner and never went anywhere without his badge, which he carried as a source of pride.
McCabe was a member of Rosses Point (Sligo Golf Club) and Winged Foot Golf Club, Mamaraneck, New York. As a past Governor of Winged Foot, he was a Vice Chair of the 1997 PGA and 2006 US Open.
His survivors include his wife of 59 years, Lynn, a son, four daughters, and nine grandchildren.