In Memoriam: Peter R. Vermylen, 72


Chase Manhattan VP and Division Executive, 1972-1986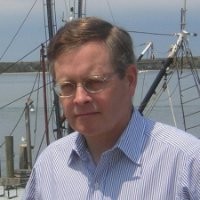 Peter Reynes Vermylen, a former vice president and division executive at Chase Manhattan, died on September 1, 2021, in Quogue, NY, after a long battle with Parkinson's disease. He was 72.
Born in Brooklyn, NY, and raised in Hillsdale, NJ, Vermylen graduated from Georgetown University. After completing his training with the U.S. Army Reserve, he joined Chase Manhattan Bank, where he worked as a commercial banker from September 1972 to June 1986. He later joined Salomon Brothers (and Salomon Smith Barney), excelling as an investment banker for multiple industries until his retirement in April 2001.
Vermylen and his wife lived in Chatham Township, NJ, until their move to Quogue in 2001. During his retirement, he was an active member of the Concerned Citizens of Quogue, a volunteer reader at Little Flower in Wading River, NY, and a co-founder, partner and CFO of Yellowfin Capital Management.
Survivors include his wife of 49 years, Cathleen Moran Vermylen, three sons and seven grandchildren.
Funeral services are being made through Werner & Rothwell Funeral Home, Westhampton Beach, NY. (wernerrothwell.com). Visiting hours are 2-4pm and 7-9pm on Monday, September 6 at Werner & Rothwell Funeral Home, 60 Mill Rd, Westhampton Beach, NY. A Funeral Mass will be held at 11am Tuesday, September 7 at Immaculate Conception Church, 580 Main St, Westhampton Beach, NY. Interment will be private.
In lieu of flowers, donations can be made to The Michael J. Fox Foundation for Parkinson's Research: (michaeljfox.org).
Remembrances
Please send to news@chasealum.org.
From Jean Marc Bara: Marianne and I were saddened to learn about Peter's passing. I joined Chase a couple of Credit Training classes before Peter and soon after credit training I went to work for Chase in Brazil. When Marianne and I returned from Brazil, we moved to Chatham, NJ, and there we became good friends with Peter and Cathy, who lived half a block away on the same street.
We became very fond of Peter and Cathy. Invariably, every weekend one could see Peter setting yet another garden gym or toy for his children. When we moved to California in 1992, it was Peter and Cathy who organized a neighborhood farewell party for us. We continued to treasure our get-togethers after we returned to the East Coast four years later.
Peter was very dedicated to his family, to his friends and to his work. Personality wise, Peter was on the serious side. It would be difficult, however, to find a warmer person, and he had a wonderful sense of humor. He could talk about the less serious parts of life when given a chance. For instance, I learned from Peter all about the radiatori pasta and its ability to hold the sauce, an invention that came from Peter's family.
Our thoughts are with Cathy and their children
and families.
From Don Chaffee: Peter and I go back 49 years! We both attended Georgetown and Credit Training and were Relationship Managers in Corporate District 1 where Joe Harkins was the District Executive. Peter was an exemplary individual, both personally and professionally. He has left us too early and will be sorely missed. The world needs more Peter Vermylens. May Peter rest in peace.
From Michael McGovern: Peter interviewed me at Columbia Business School back in 1986. Thanks to him I had an 18-year career at the bank. Rest In peace, Peter.