In Memoriam: Ann M. Ahern, 88


Caring VP in Corporate Human Resources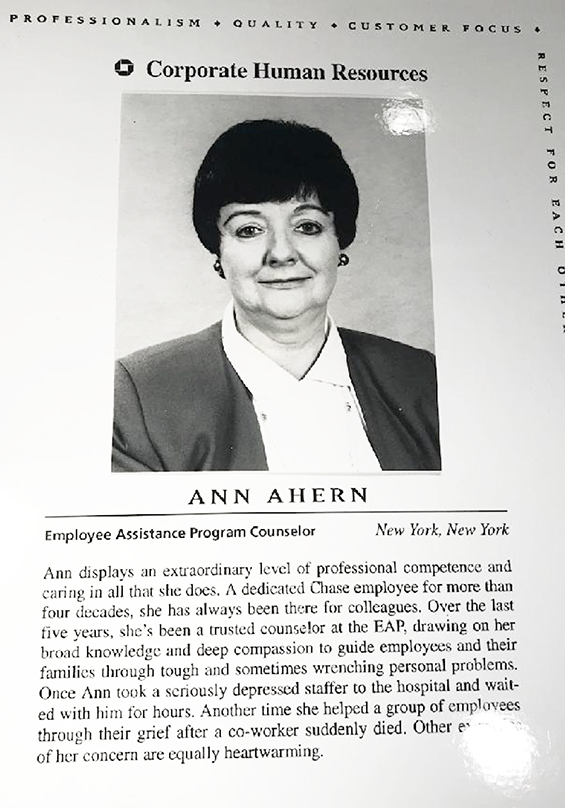 Ann M. Ahern, a former VP of corporate human resources at Chase, died on September 15, 2021. She was 88 and had lived in her native Manhattan, NY.
Ahern began working at Chase Manhattan Bank in 1950, right out of Cathedral High School in Manhattan. She remained at Chase for 47 years. Along the way, she attended Fordham University at night and earned her Bachelor of Science in Education and a Master's Degree in Social Work.
In 1992, Ahern was an Excalibur Award Honoree at Chase for her contribution to the Employee Assistance Program: "A dedicated Chase employee for more than four decades, she has always been there for colleagues and has been a trusted counselor at the E.A.P., drawing on her broad knowledge and deep compassion to guide employees and their families through tough and sometimes wrenching personal problems."
Among her survivors are a brother, two sisters, her cousin and dearest friend (Mary Chris McCarthy) and the entire McCarthy family, and numerous nieces, nephews and grandnieces and grandnephews.
Throughout her career and after retirement, Ahern was at heart a compassionate case worker, helping so very many people across the decades find jobs, housing and hope. In lieu of flowers, the family requests donations to Catholic Charities New York City, where case workers like Ahern continue the work of helping people build better lives for themselves and their families.
Remembrances
Please send to news@chasealum.org.
From Anne Gilsten: I met Ann when we were doing a social work field placement at a homeless shelter back in 1992. She was a wonderful friend, colleague and mentor, and I feel blessed to have met her. She was a loving and generous woman with a great sense of humor. I will never forget her smile and twinkling blue eyes. Heaven has definitely received an angel.
From Jo-Ann and Phyllis Leccese: Our dad, Michael John Leccese, began his career at Chase in 1947. He met Ann in 1950 while working at the bank. Our dad became Vice President. Towards the end of our dad's career at Chase, Ann became our dad's superior. He always mentioned that Ann was an intelligent woman filled with wisdom, compassion, faith and humor, and assisted many people. Through our dad, we his daughters, were honored, privileged, and blessed to have known Ann. ANN AHERN was truly everything our dad said she was. Thank you, Ann, and we will miss you dearly.
From MyNga Tran: Our Chase Saigon group will always remember Ann as one of the most dedicated and caring officers at Chase. She was in charge of resettling the Chase Saigon group, which Included over 60 adults and 20 children who came to this country in April 1975 on a moment's notice, with only enough time to pack a small bag. She helped the adults find a place to live and schools for the kids. Ann, with her deep sense of caring and compassion, was a godsend for our group, which was certainly very disoriented, all of us having had to leave our loved ones behind. Rest in peace, dear Ann. You will always keep your place in our hearts.
From Judith Joyce Burr: I was very honored to work with Ann in HR for many years. She was one of a few individuals who could make you smile even on a very bad day. Her compassion and caring touch were always present. I was fortunate to work on several projects with Ann, but the heart-wrenching project was helping our Vietnam staff relocate to the United States. Through Ann's contacts, we were able to set up housing in NY and NJ and language lessons for those who needed help. She worked 24/7 to get things right, and she had all of us on the same schedule but none of us tired. She instilled energy in all of us. You will be missed. God bless you, Ann.
From Luisa V. O'Hanlon: My husband, a Vice President of Chase, died after a brief illness at the age of 38. Without Ann I would have been lost; she was a truly compassionate, knowledgeable and caring person. The Bank had a true gem in Ann.
From Loretta Levine: I had the privilege of knowing Ann for many years when we worked for Chase Bank. She walked me through the challenge of being downsized in the 1990s with her firm yet gentle hand, never permitting me to lose my self-confidence, until I obtained new employment. I know Ann did the same for countless other Chase employees during the downsizing time. I would not be where I am today were it not for Ann. Ann was a sharp, faith-driven lady with a keen sense of humor, and she used these skills while helping others. Chase Bank was fortunate that Ann chose them as her employer and remained with them so many years. Rest in peace, dear Ann. You will always be remembered – and by so many.
From Stan Germond: Agree with the kind words for Ann, a splendid woman.
From Lisa Barbaro: I had the pleasure of working with Ann several times during my career at Chase. No matter how sad or stressful a situation, Ann always made everything better. She brought peace and joy to so many. God bless her soul.