Life After Chase: Anne-Marie Barcia
Credit Trainer Still Inspired by Her Chase Training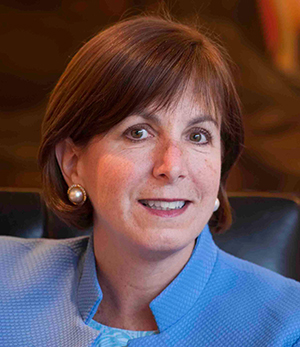 I had the pleasure of working for Chase in New York, Hong Kong and London. Having completed the credit program in New York, I was posted to Hong Kong to teach, using the Bailey manual as my guide. Subsequently, due to the kind heartedness of Tim McGinnis, I was hired at the age of 24 to be part of the FI team covering South Asia for the next three years. A corporate RM job brought me to London. The bank subsequently downsized and I was looking to do something different. With training, FI, corporate and advisory experience behind me, I decided to start a training and consulting business centered on credit, corporate finance and risk management.
It was my credit training at the bank that allowed me to have a wonderful "Life after Chase". Starting something new is like trying to sell a bank service – figure out what is the problem that you are trying to solve, find a solution and bam! You've opened the door to new business. In those days, most banks outside of the United States did not have formal credit training programs. The desire to seize opportunities in leveraged finance and the need to restructure when markets turned down made senior management at many banks eager to provide formal credit training to their staff. Lucky for us, they wanted to outsource this service.
In 2002, my partners and I sold the business to Fitch Ratings, and I ran "Fitch Training" until 2009 when I left to try my hand, once more, at launching a training company, with a difference.
What triggered my writing this article is the work we have been doing with banks in Egypt. I came to learn that the Bailey manual came to Cairo with Chase Egypt. When Chase Bank was sold and renamed CIB, the strong credit culture stayed, partly due to the rigorous credit program that is still in place at CIB. Over the years, the Chase credit culture spread throughout the financial community in Cairo. Having had the great fortune of working with a number of Egyptian banks, it always makes me smile when I hear people discuss "asset protection / asset conversion lending". When looking at spreads with terminology like Working Investment and other unique "Chase" terms", it reinforces my belief that common language, like common values, help to both create and reinforce a strong culture within a bank.
Now working at Adeva Partners, we continue to grow and recruit. (If you are based in Asia or Australia and interested in training, please contact us!) I love what I do and do not intend on retiring anytime soon. My job gives me opportunities to grow. This year my favorite assignment was working with a client to create enterprise-wide training. We used an interactive, digital training platform to explain the bank's business model, strategy, risk profile and how their financial performance benchmarks to peers. The challenge was ensuring that the training would take no more than one hour – and we did it!
Training is one career where age is not a barrier but an advantage. Keeping up with the market is a joy, though my sons tell me that if that is my definition of "fun" I need to get a life! Which I do – Life after Chase is still a treat.
The "Bailey Manual"
Peter Bailey was the eponymous writer of the Bailey Manual. Pete ran the Chase Credit Program in New York and subsequently in Hong Kong. It was the bible for those going through the Chase Credit Training Program. Barcia suspects it was somehow "lost" after the merger with Chemical Bank.
___________
Do you have comments or a story of your own?Please send to news@chasealum.org. You can have it fully written or ask to be interviewed.