In Memoriam: John R. Torell, III, 82


Served as President of Manufacturers Hanover Trust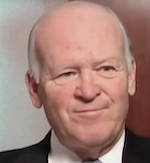 (Death notice placed in The New York Times)
John Raymond Torell, III, whose commercial and private banking career in New York spanned six decades, died on February 9, 2022 at the age of 82. The cause of death was complications to Alzheimer's Disease.
Torell led a number of major American banking institutions and participated in virtually all aspects of the financial services industry. His career began immediately upon graduation from Princeton University in 1961, as a trainee at Manufacturers Hanover Trust. He spent over 25 years at the bank, from 1961-1988, becoming president of the bank in 1981. During this time, he also served as the President of the New York State Banking Department.
After Manny Hanny, Torell became Chairman and CEO of CalFed, Inc., a large Los Angeles savings and loan, at a time when the thrift industry was in transition. He reorganized the thrift into a Bancorp, returning it to financial stability and a path toward growth. In 1991, he created an investment partnership, Core Capital Partners, to purchase regional banks, the most notable of which was Fortune Bancorp in Tampa, Florida. Torell served as its Chairman & CEO. Torell thought and spoke of himself as a builder, and indeed, he never stopped working or expanding his banking and business interests. He went to his office on Madison Avenue and 57th Street until he was 80 years old.
He was, until his late 70s, Chairman of Indecomm Global Services, headquartered in Bangalore, India, a country that awed and thrilled him, and where he traveled many times. He was also Chairman of the International Executive Services Corp., a Washington, D.C.-based organization devoted to building private enterprise and essential services in the developing world.
During his career, Torell served on many corporate boards, including Wyeth Pharmecutical, Paine Webber Group, New York Telephone, Colt Industries and Volt Information Sciences. He was a Trustee of the Columbia University Graduate School of Business and the Juilliard School.
He is survived by his wife of 60 years, Anne Keller Torell, of Bronxville, NY, and Singer Island, FL. He is also survived by his three children, their three spouses, eight grandchildren and one great-grandchild. There will be a private service at the Reformed Church, Bronxville, NY, at a later date.