In Memoriam: Stewart Gager, 81
Chase 1965-1999, in New York and London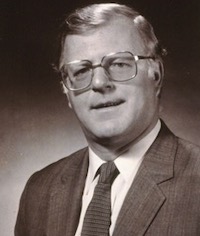 Stewart (Stew) D. Gager, who worked at Chase Manhattan for two periods between 1965 and1999, died peacefully in Naples, FL, at his home under hospice care on March 8, 2022. He was 81 and had been suffering from liver failure for the past two years.
He was born in Boston, grew up in Scarsdale, NY, and was moved reluctantly to Atlanta, GA, in his senior year. At the Westminster Schools (Class '58), he was the new Yankee in town, but was forgiven, being very good at football. There he met his future wife, Dolly, two years younger.

Gager went to Duke, where he was an enthusiastic Alpha Tau Omega. At graduation he was commissioned a 2nd Lieutenant in the Marines after a stellar record in ROTC. Stew and Dolly married soon after, on June 29, 1962.

In 1965 he trained at Chase in credit analysis and began covering a district in the western and mid-western United States. He was sent to London ain 1973 s part of a consortium bank, returning to Scarsdale in 1975. A reorganization at Chase sent him to London again in 1977, returning to Scarsdale in 1981.

Stew's business life was one of continuous change. Over time he worked for Chase Bank, HSBC and Midland Bank PLC (Senior Vice President in charge of the Western Hemisphere). Then he went to Merrill Lynch and somewhere in there back to Chase as a workout man for bad loans, particularly bad real estate loans.

The jewel in the crown was a stint on the advisory board at Raiffeisen International in Vienna, requiring many trips to Eastern Europe. Travel there included Dolly and friends on special trips (not business trips).

Trips to golf in Ireland and Scotland with Scarsdale Golf Club buddies were highlights.

Gager was a great student of history, especially the Civil War and both World Wars. In his last days in a job in England, he amassed an amazing collection of military medals, mostly following the Napoleonic campaigns. These medals had names, ranks and campaigns engraved. He read voraciously.

From the day of the fall of the Shah of Iran up to the new century, he loved bird shooting in England, largely in Yorkshire. If you have seen "All Creatures Great and Small," you know that landscape well.

He joined the Edgartown Yacht Club and loved to judge races. He studied to become a Principal Race Officer for racing at the club.

Among his survivors are his wife and daughter, Virginia Robinson (Robin), nieces, nephews and two sisters-in-law. He was predeceased by his son, Brian, and five siblings.

A memorial service will be held at Hitchcock Presbyterian Church in Scarsdale, NY, on Sunday, May 1, 2022 at 2 pm. Buffet reception to follow at Scarsdale Golf Club. Memories and anecdotes welcome.

Donations can be made to any of his favorite charities: Wounded Warrior Project, St. Jude's Hospital, Doctors Without Borders and Covenant House.
From George Zannos:I had a long time with Stew, having worked for him in the 1980s when he was the Global Shipping Exec and again in the late 1990s when he headed International Private Banking's Hellenic Team. Then there were the numerous lunches with him after retirement.
Stew was analytical, insightful and resourceful. He was committed to the business and resolute about getting the deal done. You had to bite your lip at times with his rants directed at Credit or Milbank (quickly followed by apologies) for deals he felt they were holding up. There is a list somewhere of the more colorful ones we collected and referred to as "Gagerisms".
Stew was also a great boss. He was supportive, mentoring and always approachable. And he had an unparalleled sense of fun. Comedy sketches at holiday gatherings were always more entertaining for Stew if he was the target, as with "The American Express Card, don't go hunting without it!"
Stew was a terrific person and left those of us who worked for him with fond memories.
From Gary Olson: Will never forget Stew–great man and great boss.
From Hans Heinsen: I was so sad to hear about Stew's passing. Stew had a profound influence on my career–especially how I transitioned from a credit
trained commercial banker to a more entrepreneurial "merchant banker". Thanks to him, my self-confidence grew and allowed me to leap from the banking world to the corporate world as CFO of several privately owned
companies. His management style was inspired. I can't think of a single manager who worked harder at motivating and building team spirit. His Global Shipping Conferences were legendary. He constantly
reminded us that fun is not a four letter word. I am so glad I was able to work for Stew. I am forever grateful for his mentorship and counsel as a young man. Rest in peace.
From Peter Dodds: Stew Gager had a greater influence on my career than anyone else. I worked for him on three occasions, twice at Chase and lastly at Midland and HSBC. There was never a dull moment, from cattle feeding in Montana to Italian country risk calculations. He was absolutely loyal to and supportive of his team members.
From
Christoph Auer
:
I was very sad to read that Stewart Gager had passed away. I met him in 1981, maybe early 1982, when I was about to join as a very junior membr of the then Global Shipping Division, which he headed at that time.
Others have already commented on his many fine qualities, but in addition to all that was his extraordinary personal presence when he entered the room, without necessarily having said a word yet. He was very well read, very erudite, with a huge intellectual curiosity and general knowledge which allowed him to opine fairly profoundly on many subjects and not just banking matters.
From Bill Coulter: Of the many people I have worked with during my career, Stewart Gager was the most important. He quite literally changed my life when he offered me the opportunity to work for him at Orion Bank. It would be more accurate to say that he changed our lives, as Cheryl and I have been on a journey that began in New York City and took us to London, to Hong Kong, back to London, and eventually to NYC. I could not have worked for anyone who was more supportive and more creative than Stew.
Those of us who worked with Stew will have our own stories and memories to share. In my case, there are so many I will simply say that Stew gave me an opportunity of a lifetime and and I could never thank him enough.
From Rudi Eisenhart: It is almost 50 years ago that I met Stew, him being assigned to Orion Group in London and me working in New York. Stew was demanding on himself and others; he was straightforward and honest – even under most demanding circumstances; he was loyal – even when seriously challenged - and he was fun: his joy in telling good stories and very good jokes was as catching as the jokes themselves. My memory is full of events with "Gager". They would fill a book. My memory is full of the friend I had and the friend I lost – a great loss.