A Moment in Bank History
A Tour of 1CMP Below Ground
Gene Ret's Memories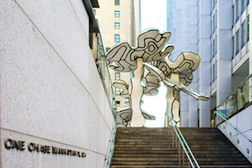 Some months back I wrote a piece about the. wonders of floor 5B at 1CMP and the time I spent there as a young fledgling supervisor in the Trust Vault. Well my time in the bowels of 1 CMP was not limited to 5B. From the Ground Floor at 1 CMP to 5B, I managed departments on four of these six floors. So to give each floor its due, here is a tour of these floors circa 1970s and 1980s.
5B: The largest Vault in the world, at one time divided into three sections, Trust, Precious Metals and Safety Deposit. This was the beginning of my time as one of the "mole men", as we were called by our above ground colleagues managing the Coupon Cutting and Blocking unit.
4B: Securities Received and Delivered departments for both Customer Custodial purposes, as well as Chase Dealership and Portfolio, resided on this floor, with access through mantraps to confirm and validate your authorization to access these areas. I managed departments at one time or another in both the Dealership as well as Customer Custodial areas.
3B: I just visited this floor, but often. This floor housed Books & Tabs (80-column Hollerith computer cards comprising customers securities positions), Corporate Changes & Collections and the administrative areas interfacing with customers and handling their instructions regarding securities transactions.
2B: I need help here, as my only memory is visiting this floor for Reproduction Services when needed for mass customer printed mailings or announcements. There must have been more going on here.
1B: Ah…..my favorite floor. I was Division Executive of Broker Dealer Operations, providing securities custodial, settlement and lending activities to securities brokers and dealers on Wall Street. Commercial Loan Operations was also on this floor, and an extension of Plaza Banking with specialized teller activities also resided here. Additionally, ESP (the Employee Store & Pharmacy) and the Employee Cafeteria comprised a large portion of the floor. The cafeteria was huge in scope and could handle 10,000 meals daily. An employee lounge area was just outside the cafeteria.
G: The Ground Floor was predominantly comprised of Plaza Banking, the main consumer banking branch that was also the home of all employee accounts. At that time, prefix 998 on your checking account was reflective of an employee account. The branch contained a huge rock garden and water fountains designed by a world renowned sculptor. Adjacent to the branch was the Money Market Instruments Department, which I managed. It was a funding vehicle supporting Treasury by the issuance of Commercial Paper. The Cardiovascular Gym was also there, under the watchful eye of Dr. Charlotte Dolecki, the Bank's Medical Director, and provided the equipment to be health conscious. A large auditorium was utilized for various corporate and executive presentations and announcements. Directly behind the elevator banks was the Guard Department's Central Station, with monitoring CCTV and other security equipment, and access to the below-grade parking facilities (if you were lucky enough to get a spot when needed). There was also access to the NYC subway system from within the Ground Floor lobby, on both the William and Nassau street sides.
Fifty percent of my 30-year Chase career was spent on these floors and, although challenging at times, were some of the most enjoyable years of my career. The people made it so.
Comments

Send comments or your own "A Moment in Bank
History" story to news@chasealum.org.
From Judi Joyce Burr: Gene asked for information on 2B. My mother, Helena Raikowski, worked on 2B for a number of years. She was in Check Processing. It probably had a fancier name, but I only knew it by that name.
From Doug Monroe: Gene's memories of the five underground floors at 1CMP reminds me of a humorous moment. For a couple years in the mid 1980s, I was the manager of Chase Operations and Technology's Officer Training Program. Each year, we recruited stellar candidates from top schools to build a cadre of college educated operations leaders. Believe it or not, that was a bit of a culture change, and we worked hard to make sure that the students we brought in understood what Operations really was. It was not the Credit Training program!
We assigned them to rotations in the bank's various N.Y. commercial operations components, some of which were underground as Gene points out. When it was time for their first real job after the program, I would talk to each trainee about their preferences. I will never forget my first year when one of the program graduates responded: "Doug, I don't care. Just make sure it has windows!" I don't remember if her wish came true.