In Memoriam: Christopher Carlin, 73


40-Year Career at Chase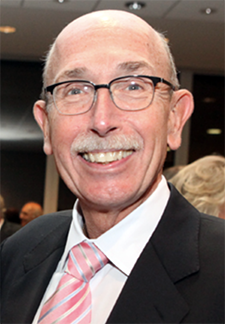 Christopher Carlin, of Wilton, CT, and Naples, FL, passed away peacefully, surrounded by his family, at home in Connecticut, on March 26, 2022, after a two-year battle with cancer. He was 73 and had a lifelong career at Chase Manhattan Bank.

Carlin was born in Baldwin, NY, and earned a BA in Economics from Manhattan College in 1970. Shortly thereafter, he married Donna Williams. Following two years' service in the U.S. Army, Carlin started at Chase.

In 1984 Carlin was offered the opportunity to move to and work in Tokyo, Japan and relocated with Donna and their children, Amy and Stephen. He and his family lived in Tokyo for nine years.
In 1993, the Carlins moved back to the United States and settled in Wilton, CT. In 2011, Carlin retired after 40 years with JP Morgan Chase.

Among his survivors are his wife, children and four grandchildren.

The funeral mass will begin at 10 am (Eastern), Thursday, April 7, 2022, at St. Mary Parish (55 Catoonah Street, Ridgefield, CT. 06877).
From Ken Brown: I don't think Chris would mind being described as "old school" in terms of his work ethic. We came from a time when new VPs were congratulated as becoming members of the second most exclusive club in the world, then challenged to make Chase even greater through hard work, intelligent decisions, loyalty, honesty and integrity. Chris embraced all those values along with healthy doses of teamwork and respect for work-life balance long before that term became popular. We worked together in the Transaction Approval Group, which Chris headed, for the last 10+ years of our careers. I never heard him brag of his own accomplishments, but I often heard him boast of the great people on his team. We regarded him as our champion rather than our taskmaster. One part of the job was "Late Duty", a role shared among the senior staff on a rotating basis, each of us fearing the dreaded words "Fed Extension". As the boss, Chris could have easily opted out, but he chose not to do so – he would not ask his staff to do something that he himself was not willing to do. I never saw him angry at anyone, and the only time I ever heard him voice a real complaint was when we were comparing the highs and lows of our overseas assignments, and he described his sadness over the one crate that went missing from his stored household possessions – the crate that contained all his family heirlooms, including everything related to his late brother. We have lost another of the "good guys".
From Julian Cole:

I was deeply saddened to learn of the passing of Chris Carlin.
I first met Chris in 1989, in Tokyo, and was fortunate to know Chris for decades thereafter as an ever reliable colleague, trusted advisor and great friend.
I have many stories to tell about Chris, but one that particularly comes to mind was when I was at home in Tokyo and received a call from Chris at just before 10 in the evening of September 11, 2001. (Remember Tokyo time is 13 hours ahead of New York.) Chris was in his office in Brooklyn looking towards Manhattan, and an aircraft had just crashed into the World Trade Center. What was happening was unclear as indeed the implications, but Chris had realised that they would be very significant and that Tokyo would be the first major financial market to open the day after on September 12th. While we were talking the second plane hit the Twin Towers ……… Amongst many career achievements, Chris will always be remembered as the architect of the Chase Manhattan Bank Tokyo Dollar Clearing, which from the late 1980s enabled the then largest banks in the world to settle US$ transactions among themselves in their own location and time zone. Possibly the most successful foreign monopoly in Japan, Tokyo Dollar Clearing has run with military precision and discipline through countless market cycles and events, indelibly impressed with Chris's hanko.
Ken Brown summarises the feeling so well, "we have lost another of the good guys" ….. truly one of the best.
From Beth Levinsky: Oh no, not Chris! I loved Chris!
I worked with Chris when he joined the Asia Pacific Group/ Japan team before he went to Japan. After he returned from Japan and was part of TAG (as Ken Brown explained, besides manning our position with the Fed but also called us/me regarding clients with those 6 pm substantial O/Ds to find out where the cover was).
When we met on various projects, he always treated me with the utmost respect and genuine friendship, which helped my credibility with my peers and manager. He also told us great stories (I love stories) and always reinforced our responsibility to use our common sense when dealing with clients and others. I enjoyed working with him and am very sad to learn that I will not have the opportunity to tell him this in person.
From Ed Cooper: Surprised and saddened to learn on Chris Carlin's passing. I last met Chris at the Chase Alumni Japan Reunion in October 2018. We had not seen each other in several years, so we had a lot of catching up to do. Two months ago Chris emailed with news of his health challenges. He was reaching out to colleagues he had worked with. We exchanged emails about our shared experiences and looked forward to the day we could meet again in Connecticut or Florida as his health allowed. So news of his passing was unexpected.
Chris worked for me twice, in New York when I took over the Asia Institutional Banking Group where Chris was a team leader for the Japanese/Korean/Taiwan banks, and later when I moved to Tokyo a year after he did.
There are many stories I could tell about Chris, but a few stand out, particularly the creation of Tokyo Dollar Clearing, with the help of Larry Hathaway and the IT team that build EBMT (Electronic Banking Money Transfer) terminal. This became the foundation for dollar payments among the Japanese Banks with net settlement in NY. "Moonlight overdrafts" became a hot topic. Chris also managed the local custody business, which was very large because of Chase's Global Custody business. All of these experiences prepared Chris to take the leadership of the Transaction Approval Group.
Chris was a pleasure to work with, especially under pressure, and the businesses he managed in Tokyo always had some unexpected event that became a crisis, as in1987. On September 30, we had one of the largest volume days in Tokyo Dollar Clearing. September 30 was the fiscal year end for the Japanese Securities Companies and the quarter end for the banks. We had very large moonlight od's, and I called Al Lalonde to tell him what was coming. Later, in NYC the Fed systems crashed and the close was delayed, it turns out for several days. Chris informed the BOJ and assured them the payments could be submitted to EBMT and then the settlements processed when the Fed reopened. Without this, the banks and securities companies could not close their books. Afterwards the BOJ invited Chris and his team to meet them to discuss payment system risks. This was highly unusual position for a foreign bank.
A few weeks later was Black Monday, with pressure on our custody business. We had an open phone line with Chase NY since we had to work around securities companies and their clients selling stocks and bonds they did not have in our vault. Chris was in the middle of managing through this event.
Ken, Julian and Beth have commented on Chris as a colleague and boss, and I agree with their sentiments. My three years in Tokyo working with Chris were among the best I had at Chase. He will be missed.