In Memoriam: Nancy Lane, 88




Pioneer at Chase Manhattan at Beginning of Illustrious Life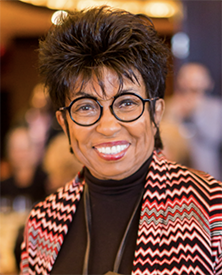 Nancy Lane,
whose tenure as a second vice president and head of executive recruitment at Chase Manhattan from 1972 to 1973 was but a footnote in her long and illustrious life, died at her home in Manhattan on March 28, 2022, at the age of 88. An
obituary in The New York Times
called her "the spirit behind the Studio Museum in Harlem" and a trailblazing black woman in the corporate world.
She left no immediate survivors.
The following biography is from thehistorymakers.org:
Corporate executive Nancy Lane was born in Boston, MA, to Gladys Lane and Samuel Lane. She received her BS degree in public relations and journalism from Boston University in 1962, and went on to earn her MPA degree at the University of Pittsburgh Graduate School of Public and International Affairs in Pittsburgh, PA In 1975, Lane completed the Program for Management Development at Harvard Business School in Boston.

Lane began her career at the Westinghouse Broadcasting Company. She then worked as a project manager for the National Urban League, where she developed the Black Executive Exchange Program. From 1972 to 1973, Lane was a second vice president and head of executive recruitment at Chase Manhattan Bank in New York. She became the vice president of personnel at New York Off-Track Betting Corporation in 1973, before joining the administration department at the Johnson & Johnson Products corporate headquarters in New Brunswick, NJ in 1975. The following year, Lane was named vice president of human resources and administration, making her the first woman to assume the role. She also served on the board of directors of Ortho Diagnostic Systems, a division of Johnson & Johnson. She was the first female vice president, and first African American, to sit on Johnson & Johnson's management board. Lane served as vice president of government affairs at Johnson & Johnson's corporate headquarters until her retirement in 2000.

Lane held several board positions, including on the board of governors at Rutgers University, the National Board of Directors for the NAACP. She also served as the lead NGO representative at the United Nations. She also served on the board of Bloomfield College, the board of trustees for Freedom House, the board of directors for the SEED Foundation, and the board of Studio Museum in Harlem. She was as an advisor for The International Review of African American Art, as well as a co-chair of the Stieglitz Society at the Metropolitan Museum of Art in New York. In 1987, Lane received the Distinguished Alumni Award from Boston University, which is the highest honor bestowed upon an alumnus.
Photo: Nancy Lane at Studio Museum of Harlem Spring Luncheon 2018. Photographer: Scott Rudd