Life Before Chase: Seiki Murono
Extraordinary Beginnings for an Illustrious Life
Posted June 6, 2022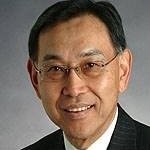 Seiki Murono
turns 78 today–on the anniversary of D-Day. One can only imagine his parents' emotions that day, as Seiki entered the world in an internment camp in Crystal City, TX, amidst more than 1,000 Japanese-Peruvians who had been forcibly deported from Peru under pressure from the United States.
Would they have believed that their child would become a college football hero and a senior vice president of Chase Manhattan Bank?
Ginzo and Hisako Murono were both from Kyoto and emigrated separately to Peru in about 1930, marrying there. Mr. Murono worked for his uncle who owned La Pluma d'Ora, a successful sporting goods store, in Lima. While there were waves of anti-Japanese sentiment and violence in the Peruvian capital even before Pearl Harbor, the outbreak of war in the Pacific changed everything. The United States, fearful of a fifth column in the sizeable Japanese community in Peru (and smaller groups of Japanese ex-pats in other Latin American countries), forced the deportation of some 2,200 Latin Americans of Japanese heritage to U.S. internment camps as enemy aliens. Mr. Murono was sent first, followed by his wife and her two small children.
"My father felt more Japanese than Peruvian and considered himself uprooted, but he never thought he would fight for the Japanese," Seiki said.
The Muronos had lived comfortably in Peru, with two homes and 5,000 acres of property. All their property, possessions and business interests were confiscated by the Peruvian government. Now they were making 10 cents an hour at Crystal City. As internment camps went, it was not the worst, though, with stabs at self-governance and facilities for recreation, education and religious activities.
After the war, the Muronos could not go back to Peru, and they did not want to return to post-War Japan.
"My father wanted his three kids to get a college education, to pursue the American dream," Seiki said. Despite having lost his comfortable life at the hands of the Americans and Peruvians, his father harbored no bitterness.
"My father was a saint," said Seiki. "He just saw the positive. My mother had a tougher time."
The Muronos and other of the Japanese-Peruvians remained in Crystal City until 1946, when Charles Seabrook, owner of Seabrook Frozen Foods, realized there was a cheap and possibly grateful labor force to be had in these detainees as well as Latvians and Estonians refugees fleeing Communism.
The Muronos moved to the company town, Seabrook NJ, working long shifts for minimum wage.
"This town in southern New Jersey was a melting pot," Seiki recalled. "Local whites and African-Americans all lived together in harmony. We didn't experience any prejudice. All the teachers bent over backwards to help us assimilate. One teacher in particular, Jane Owen, taught me proper English and gave me career guidance. She was the one who suggested international banking."
And even though there weren't many Japanese role models in U.S. professional sports, nearly every kid in Seabrook played football, baseball and basketball.
Seiki followed in his older brother Eisuke's footsteps playing football at Bridgeton (NJ) High School and then, on scholarship, at Franklin & Marshall (F&M), a small liberal arts college in Lancaster, PA. (Eisuke broke his leg playing football at F&M; the surgeon who operated on him suggested a career in medicine. Eisuke would earn a PhD in endocrinology and publish some 72 research papers.)
F&M had a far less diverse student population than Bridgeton High, with only a handful of Asians. Teammates would stand up for Seiki when he would be the target of an ethnic slur from an opposing team. Nobody messed with F&M's star quarterback and standout baseball player!
"I couldn't have played football at the big football program schools," he said modestly. "If you were doing well in school and in sports, you were accepted."
After graduating from F&M with a business degree, Seiki played pro football in White Plains in the Atlantic

Coastal Ball League and for the Long Island Bulls, a secondary team of the New York Giants. Meanwhile he was commuting to American University in Washington, DC to earn an MBA in International Business.
"I knew my limitations," he said.

He left football behind and started at Chase Manhattan in 1968, in the Global Traiining Program.
"Chase was a true meritocracy," Seiki said. "My father told me, 'You should be paying Chase for this training.'"

Among Seiki's Chase positions before retiring as a senior vice president in 1985:

Head of Middle Market Lending for the Northeastern US, CEO, Southeast Asia, for Consumer and Private Banking, Asia Pacific CEO for Private Banking and President of the Chase Manhattan Trust Company of California.
Since leaving Chase, Seiki has served as Chairman of the Board of the Millennium Bank in San Francisco and President and CEO of California Business Bank. He was a director for both Millennium Capital in Shanghai, China, and Synzyme Technologies, a California biotech company. He became a partner and managing director of Boyden Global Executive Search where he headed the firm's west coast financial services search practice. He and his wife, Lynette, live in San Francisco.
"My father would say, 'Don't set too many expectations for yourself. Whatever you are asked to do, do the best possible job. Treat people with respect, play by the rules. The outcome will be positive if you live by those rules."
Asked about the current wave of anti-Asian prejudice in the United States, Seiki said, "Throughout my life I haven't seen anti-Asian attitude, even today, I see it on the news, but I haven't experienced it. I'm just so grateful for the people I grew up with and worked with, like my father. I just have such a positive view of the goodness of people. If you treat them well, you'll be a function of how you carry yourself, how you see yourself."
________________________________________________________________________________________
COMMENTS
From Gary Barrelier (Former Country Manager, CMB Panama Branches): I cannot refrain from saying a few words about this excellent man. Seiki was my instructor in the Credit Course at 80 Pine St. a long time ago. A very conscientious and thorough instructor, and a very fine friend and colleague! He was also assigned to Chase Manhattan's Panama branches on more than one occasion as instructor, an assignment that he always discharged with the greater professionalism.
I am vey glad to learn about Seiki and, as a fellow retiree, wish to convey to him my personal appreciation for his dedication and the years we spent together at CMB, and my very particular personal esteem.

In Murono's Words...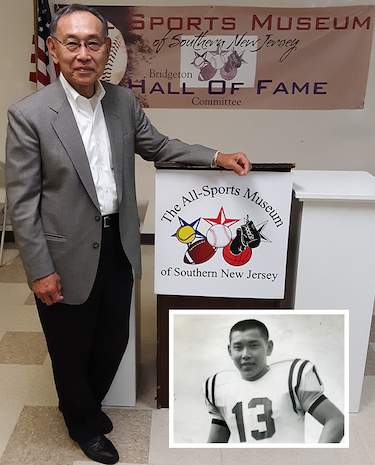 Seiki Murono was inducted into The

All Sports Museum of Southern New Jersey in October 2021.
Following are some of his remarks:
"...when I looked at some of the truly exceptional inductees from prior years, I didn't feel worthy of such an honor. So today, rather than having the focus on me, I would rather shift everyone's attention to the circumstances that all combined to make this day possible. The journey and events of history that brought my family from Lima, Peru to an internment camp in Crystal City, Texas, where I was born, to finally settling in Seabrook in 1946.
"As a kid growing up, you really don't miss what you don't know. I thought life in Seabrook was the norm…that no one had bathrooms in their homes, and everyone had to burn coal in a pot belly stove for heat. I thought everyone lived like this and to me, life in Seabrook was not so bad. Go to school, play sports and in the summer go pick beans for Seabrook Farms for 35 cents a basket. On a good day, an average kid could pick around 10 baskets and earn $3.50 a day. But there were people like Rei Noguchi and my brother, Eisuke, who were work horses and could outpick guys like me 2 to 1. Some of us who were not so dedicated would seek out diversions from the monotony and backbreaking work by flushing rabbits and trying to catch them with our bare hands. Those little guys were pretty quick and shifty, so you probably guessed that we never caught a rabbit.
"When we had some free time, we'd hang out with other Japanese-American, Estonian and Latvian kids who were from displaced families just like ours and all seeking a better life. I have only positive memories of my time in both Seabrook and Bridgeton, where all of us were accepted into the community with open arms, treated fairly and given every opportunity to succeed. Apart from my parents, the people who had the most positive influence in my life were my teachers at Seabrook School and Bridgeton High, especially Jane Owen and coaches Barney Fisher, Duke Wuzzardo, Danny Calabrese and Larry Elwell, who taught us that if you wanted to succeed, you had to prepare well, be an unselfish team player and be willing to pay the price. Largely through their efforts and guidance, we were given the tools needed to function and move forward in American society.
"As kids, we didn't all know where we were headed, but because of what we were taught and the foundation that was laid, we all knew how we were going to get there…study and work hard, play by the rules, don't complain and seize opportunity when it presented itself. If you lived these values and treated people with respect, given a level playing field, you would be able to achieve a pretty good outcome. And just look at some examples of what was accomplished by people such as Rei and Paul Noguchi who both earned PhD degrees, became college professors and dedicated their entire lives to the noble profession of teaching others; look at my brother Eisuke who also received his PhD in endocrinology, taught at two medical schools and became a Senior Scientist for the CDC. These are just a couple of examples of what individuals with such humble beginnings were able to achieve just one short generation away from parents who had so little, endured so much and who had to work at a frozen food factory. What an amazing story it is and what a tribute to our parents, teachers and coaches who helped shape who
and what we would become."
* * *
Do you have comments or a story of your own?Please send to news@chasealum.org. You can have it fully written or ask to be interviewed.