A Moment in Bank History
A Time We Cooperated with Russia
By Peter Rapuzzi
Posted June 19, 2022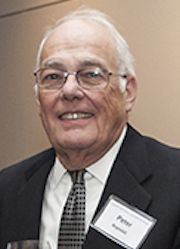 Former N.Y. Fed President
Gerry Corrigan's obituary
in The New York Times brought back memories of my working with him and the Financial Services Volunteer Corps to create the Russian-American Bankers Forum program in the spring and summer of 1993.
This involved a three-week intensive review of banking products and practices conducted by many American bankers and regulators. The Forum was held at Fairfield University in Connecticut, followed by a 7–10-day placement of the Russian Bankers and other program participants with banks all around the country.
The purpose of the Forum was to help modernize the Russian banking system and create job opportunities in the financial services sector. One of the considerable challenges was providing simultaneous language translation of commercial banking terms, which was provided by students from Moscow State University and several Russian business schools.
Tom Labreque (who was on the Board of the NY Federal Reserve Bank at the time when Gerry was president of the Fed) asked me to become involved and Chase contributed my time to the effort.