Life After Chase: David Gibson-Moore
A Career with Bold-Faced Names and Middle Eastern Insights
Posted June 27, 2022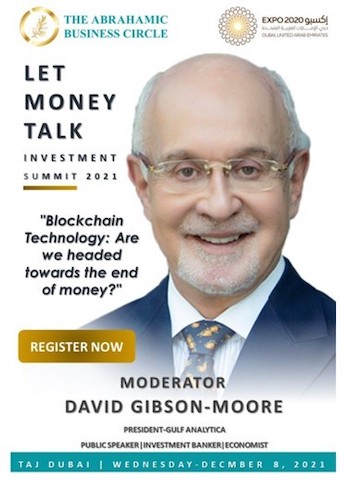 There are bankers who know the royalty of the corporate world, and then there is David Gibson-Moore, who knows the royals – the Princely Family of Lichtenstein, the ruling Emirati sheikhs. And while Sir Edmund de Rothschild was not of royal blood but a prince of banking, it was Gibson-Moore who introduced David Rockefeller to him, and not vice versa.
Gibson-Moore is now using his connections and accumulated treasure of wisdom and experience as a consultant based in Dubai and as a much in demand speaker and moderator at financial conferences.
For the past nearly eight years, he has been president and CEO of Gulf Analytica, which, with partner Lord Carrington, offers comprehensive assistance to leading global companies, governments and institutions wanting to develop their businesses in the Middle East. Gulf Analytica guides private equity and start-ups focus on fintech/digital disruption. Gibson-Moore is also on the Global Advisory Board of Dalma Capital Management Limited

, on the advisory board of iWealth.org and a senior advisor to Finanz und Industrie-Kontor.
The son of an eminent London surgeon,
Gibson-Moore
graduated from Exeter College, Oxford, at a time when "there was a culture among the PPE (philosophy, politics and economics) group of flippancy"–noting that some of those classmates comprise the "entourage around Boris Johnson". Gibson Moore
last lived in the United Kingdom in 1981, and his two children still live there. "I love going back," he said. "You forget how green things are–dazzling. And people just get on with it. They don't complain."
He has been based in the Middle East since 1993, when he moved to Saudi Arabia to become Executive Director of Investment Banking and Share Trading

for Al Rajhi Bank

, the largest Islamic bank in the world. After six years there, he left Riyadh for Bahrain, to set up the Middle East operations for Robeco.
"My wife said, 'It's either me or Saudi, so we moved to Bahrain." He spent some nine years with Robeco before spending four and a half years with LGT Bank in Bahrain as Managing Director and Chief Representative
He then decided to move to Dubai to do consulting.
"Bahraini culture goes back 3,000 years, but the expat population got up to 50 percent,"
Gibson-Moore
commented. "Emiratis are only 8 percent of the population in Dubai. It has lost its roots, but it is an extraordinary hub." Indeed, expatriates made up approximately

88.52 percent of the UAE's population as of 2021.
Gibson-Moore
's first exposure to the Middle East, however, was during his 13 years at Chase Manhattan, between 1980 and 1993. While his last position was as SVP, Global Investment in New York, preceded by a long stint in Geneva as General Manager and Chairman of the Board of Chase Manhattan Suisse SA, Chairman of the Boards of Chase Manhattan Bank and Trust, Jersey and Chase Manhattan Luxembourg, S.A., and Country Manager for Switzerland,
Gibson-Moore
was also a Regional Executive, SVP with responsibility for the Europe Middle East Africa (EMEA) Division. There were only five major banks in the Middle East then, and
Gibson-Moore
set up commercial and private banking for Chase there.

"I ran the EMEA division from Geneva, with 32 direct reports," he recalled. "You're meant to have a maximum of eight."
This period included many heady experiences. He set up a dinner for David Rockefeller with the heads of Credit Suisse, UBS and Julius Baer. DR (who
Gibson-Moore
said had "semi head of state status") was the guest of honor, and the gathering went on until 3 am. "I realized that around the table were the guys running Switzerland,"
Gibson-Moore
said.
He was asked to stand in for DR at an event in Rabat, Morocco, marking the 20th anniversary of Hassan II's reign. Chase's accounts were with heads of state.
Chase asked
Gibson-Moore
to relocate to New York in 1990 to set up an investment banking group and oversee activities that mostly involved high-worth groups in Asia and Indonesia.
He loved New York and "agonized over leaving Chase" in 1993, he said, "but I was in my late 40s, and I noticed fewer people my age around."
Gibson-Moore
credits his time at Chase for "everything I do know about management and how powerful organizations can work."
"I met legendary figures, which was important to my own personal journey."
"Banking has changed, though," he continued. "The old merchant bankers don't exist anymore­­–the
white-haired gentlemen who knew companies, doing a deal and getting it off."
Gibson-Moor
e's consulting practice is at a point where he isn't looking for business. "I only work with people I enjoy dealing with and only do business I want to undertake," he said. "People come to me, 'Would you help raise funds for this or that'. I don't do that."
Through his conference circuit work and involvement in multi-district conferences of Rotary International, Gibson Moore finds business enough and mixes with major economists and figures in global finance, including Nouriel Roubini, Mohamed El-Erian and Bill Browder.
In the last year he participated in the AIM Summit, a keynote event in Dubai, The

Abrahamic Business Circle (

an exclusive Private Members Network focused on promoting global economic diplomacy through investments) and CCForum, which

Gibson-Moore

said is described as the "Green Davos".
"I enjoy it, people want me to do it and it's good for my brand," he said of his conference work.
He's not often surprised by what he hears at conferences because, as a moderator, he has discussed the topics extensively with participants ahead of time. His take on the main topics that interest him and other conference attendees? Whether we will go into a recession, with stagflation as the baseline, and what the future of crypto is, and will it be regulated.
He has no plans to retire, but he's already drafted a memoir and hopes to write a novel "based on all the crooks I've met in my career."
"I've had to deal with people from the mafia, and in this part of the world and Africa, one has had to be terribly careful," he shrugged. "You like to think you can judge people fairly well, but in can come a person with incredible vision and nothing behind them at all."
In Gibson-Moore's Words...
► Saudi Arabia has almost no manufacturing. If oil prices keep going up, Saudi will earn an additional $1.4 trillion in the next nine months. There is little incentive to reduce oil production and diversify, but Saudi is trying to diversify.
► Family values in Saudi are extraordinary. Women are not trying to tear off their burkhas.
► The grain crisis will be a huge crisis for the UAE because all food is imported.
► Bahrain hardly has any oil – it ran out. Bahrain is now a banking center.
► The largest oil field is in Saudi waters and the largest gas field is in Qatar.
► Dubai has had to develop a service economy.
► Qatar has the highest GDP in the world; the government pays for everything, and the
entrepreneurial spirit has vanished.
► There's still some affection for the Brits here. When the Al Quassimi pirates attacked in 1809,
countries begged Brits to stay. There is rivalry among the Emirates still, and if the Brits hadn't been here, Saudis would have taken the Emirates.
* * *
Do you have comments or a story of your own?Please send to news@chasealum.org. You can have it fully written or ask to be interviewed.