In Memoriam: Ulrich Krohn, 87



With Chase in Germany for More than 25 Years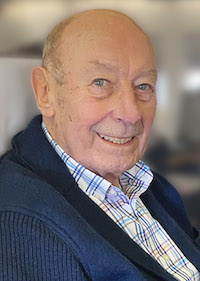 Ulrich Krohn, 87, of Düsseldorf, who served more than 25 years with Chase Manhattan Bank, passed away in his sleep on June 13, 2022.
Krohn was born in Königsberg (now Kaliningrad in Russia). At the end of World War II, he fled with his family to West Germany. He grew up in Frankfurt am Main.

After earning his Baccalaureat in Frankfurt, he started his banking career with Dresdner Bank, joining Chase Manhattan in the late 1960s. Krohn ecame Branch Manager in Frankfurt and later served many years as a Board Member in charge of Credits of Chase Bank AG in Frankfurt. He retired shortly before the merger with Chemical Bank.

Suvivors include his daughter, Claudia, her husband, Ralf Zimmermann, and his grandson, Alexander.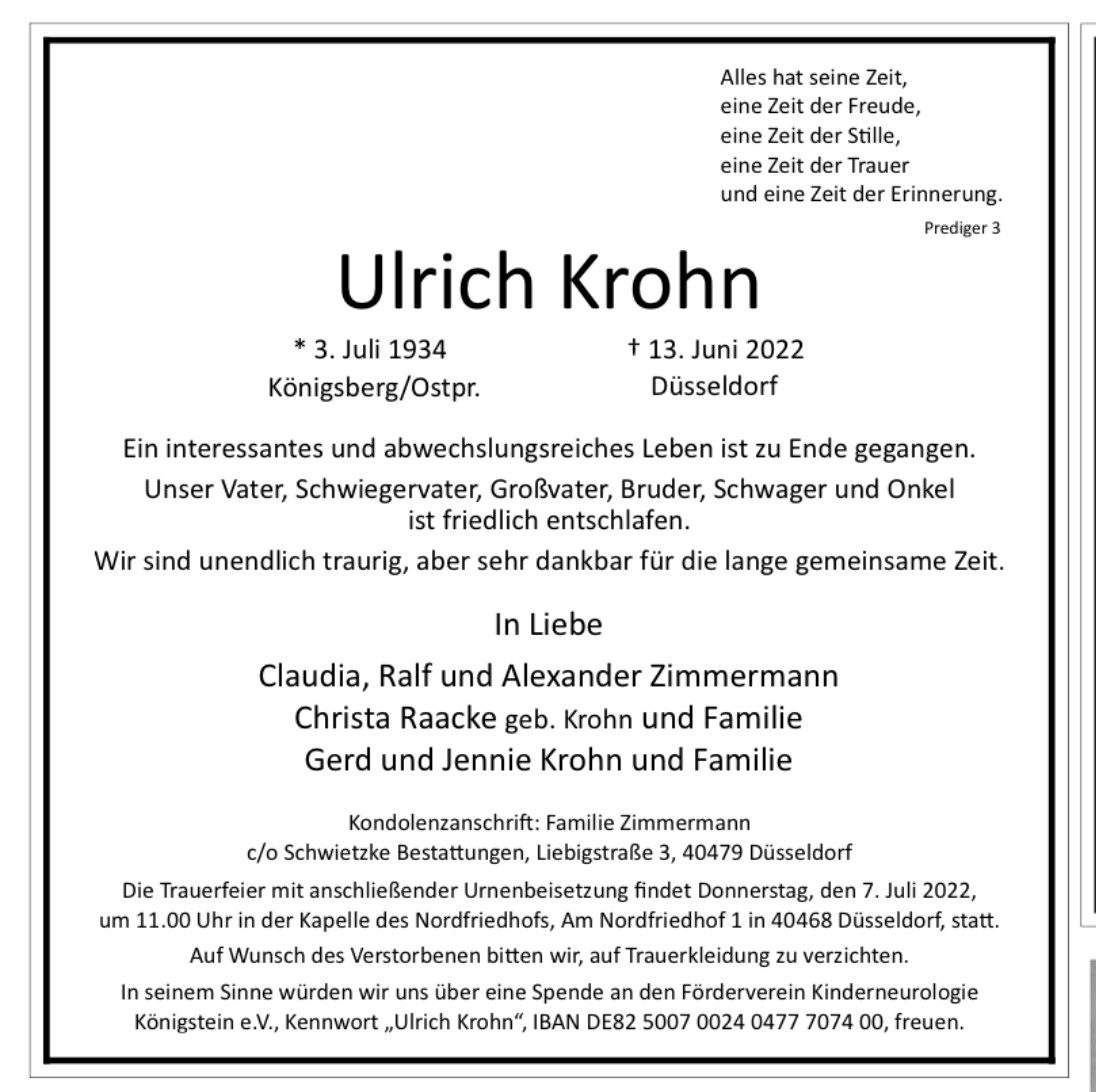 From Diana Silverman (Gore): I read these Memorials of colleagues and senior members of staff that I knew and respected and am a bit shocked at the passage of time. I have never felt compelled to write about memories of people like Jack Hooper or John Philpot who had an enormous impact on my education and approach to problem solving as I felt that others were in better positions to share their stories. However, I do want to add a memory for Ulrich Krohn.
Ulrich and I traveled to Israel together in 1983 to deal with a problem loan for the building of a hotel in Eilat. The recipient of the loan was a Holocaust survivor but, unfortunately, a dishonest one. We had several days of negotiations with government officials trying to resolve the issue of the quality of hotel that could be built. Apart from the complicated historical, banking and governmental considerations, the trip itself was profoundly moving for both of us. Taxi drivers, waiters and hotel staff would hear Ulrich's accent and speak German to him - never asking if he was Jewish. I never expected to be hearing and speaking so much German in Jerusalem and Tel Aviv. After several days of what he saw as unflinching kindness from Israelis with German heritages, Ulrich began to tell me about his life. He told me what the women of his family suffered at the hands of Russians as the war ended. He talked about his early years as a banker in Europe and the insults that were hurled at him in many countries. But in Israel, no one judged him. This was my first trip as an American Jew to Israel, and I had the honor of doing so with an incredibly kind, funny and generous German who was born in 1934. I have thought about that trip often over the years and am glad to know that Ulrich continued to be seen as a special person in his professional and personal lives.

From Peter Gross:
Ulrich and I joined Chase Frankfurt within six months of each other in 1966. Unexpectedly we ended up starting a new function at Chase Germany, to report credit facilities on CFRs to Head Office. That was the beginning of a newly established credit department at Chase Frankfurt. This was also the start of a long and enduring friendship between Ulrich and our families.
As I had moved on from Frankfurt, initially to Hamburg, Ulrich became the rock and soul of Chase in Germany for more than 25 years. Through our moves to New York and later South Africa and Singapore and on, we provided plenty of opportunities to travel and visit each other in all locations with many happy memories for both our families. Little did we know that we would not see Ulrich again after we had dinner with him in Düsseldorf just two months ago. You will be missed my friend.
From Herb Jacobi: I remember Ulrich very well. He was a critically important member of Chase Germany management in the turbulent days in the early 1970s. I met him for the first time in 1969 when I moved from Düsseldorf to Frankfurt. He impressed me immediately with his capabilities and warm personality.
It was a privilege working with him and I will keep him in my thoughts. My sincere condolences to Claudia and his family.
From Brahm Nirgunarthy: I remember Ulrich during my visits to 11 Tanusalaga HQ in Frankfurt. He was very supportive of our work (profitability reporting of Global customers) during that time in our times in the Branch. May his soul RIP.
From Karl H. Schmidt: I am saddened to hear of Ulrich's passing. I knew Ulrich well from meeting him in New York and Germany and also from visiting the bank's customers with him.
I think his in-depth knowledge of the bank's business and of corporate Germany was somewhat underappreciated by senior management. With all the turmoil at the bank, he was the guy to keep things together and sane.
As said above, Ulrich was well liked inside the bank and with clients. He knew corporate Germany very well, and as Germany's senior credit officer, I am sure he kept the bank from risky endeavors.
I personally regret not to have travelled to Düsseldorf during my most recent visits to Germany to reminisce with Ulrich about the "good old times".
From George Keenan: I remember Ulrich well from my time spent in the Frankfurt branch. He was always helpful and support. My condolences to his family.
From David Weisbrod: I remember Ulrich with great fondness. He was one of the first non US bankers I had the opportunity to meet after I joined the Bank and I worked with Ulrich with pleasure over many years. A true gentleman with enormous integrity; we will miss him.