In Memoriam: Robert "Bob" Rosenbloom, 76




Part of Chem

's & JPMC's Corporate Social Responsibility Team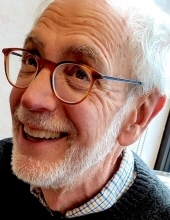 Robert "Bob" Rosenbloom
of Ossining, NY died unexpectedly on June 21, 2022, at the age of 76. He was a member of the Chemical Bank and later JPMorgan Chase Foundation's Corporate Social Responsibility Team for 22 years. Just the day before he fell ill, Rosenbloom had enjoyed touring the caverns of Mammoth Cave in Kentucky.
Born in St, Louis, MO, on August 20, 1945, he graduated from Princeton University in 1967, after which he served in Bolivia with the Peace Corps – two years that proved a formative experience, sparking lifelong passions for community development, Latin America and the Spanish language, along with friendships with fellow volunteers that lasted for the next 55 years. Most recently, after a return trip to Bolivia with these friends, he helped raise funds for the nonprofit Mano a Mano to dig a well for a small community there.
After returning from the Peace Corps, Rosenbloom completed a doctorate in political science at Stanford University, where he first met his future wife while waiting outside a library that had been evacuated by a bomb threat.
He went on to become Associate Professor of Politics at Mount Holyoke College, before joining the Corporate Social Responsibility team at Chemical Bank (later JPMorgan Chase Foundation) in 1983. For the next 22 years, Rosenbloom and a group of close-knit colleagues funded millions of dollars in grants to charitable organizations in the United States and around the world. This gave him great satisfaction and the opportunity to travel to places like South Africa and his beloved South America. He retired as a Senior Foundation Officer.
He was committed to social justice locally, as well. After retiring from Chase, he became a founding partner of Strategic Philanthropy Advisors. He also worked part-time for the Housing Action Council, helping residents facing foreclosure in New York's Westchester County. For years, he sat on the boards of the IFCA Housing Network and the Ethical Society of Northern Westchester, and volunteered with Neighbors Link to help immigrants learn English and integrate into American life.
He is survived by his wife of 49 years, Lisa (Henderson) Rosenbloom of Ossining, NY; a son, Philip Rosenbloom (Christina DaCosta) of Poughkeepsie, NY; a daughter, Kate Rosenbloom of Brooklyn, NY; two grandsons and sisters.
In lieu of flowers, the family encourages donations to one of the following charities:
A memorial service will be held on Sunday, July 31, 2022
at 2 p.m. at the Ossining Children's Center (32 State
Street, Ossining, NY 10562). Parking will be limited, so
carpools are highly encouraged.
From Joel Epstein: I had the good fortune to know Bob quite well when we were undergraduates at Princeton and to run into him again when Chase merged with Chemical and we were able to work together on a number of philanthropic projects.
Subsequently, we met from time to time in Westchester (where he lived) or Manhattan. The last time I spoke to him was several months ago and we agreed to get together after his vacation in Kentucky.
Bob was a wonderful, kind, giving and principled person. I will miss him. RIP.
From the heritage Community Development Group (part of Commercial Real Estate Finance) at Chase Manhattan Bank, in a notice in The New York Times: Our friend Bob used his considerable intellect and compassion to be a force for good. His creative thinking led to the development of signature community development products and programs that had significant social impact long before the term existed. Bob's contributions to Community Development helped create a standard of excellence and innovation that differentiated the bank's community development programs from those of its peers. Most important, in addition to being a valued colleague, Bob was a person of incredible integrity, empathy and unimpeachable character. He will be missed. It was a privilege to know him and to have been his colleague. He was a gentle soul with a good heart and a desire to make the world better, particularly for those less fortunate. We will remember him fondly.