In Memoriam: Richard A. Hanson, 86



Sr VP at Chase Manhattan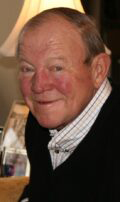 Richard Arthur "Dick" Hanson, 86, who once ran NYC's Chase Manhattan retail branches and headed its middle-market lending, died from Parkinson's disease on May 19, 2022. He had lived most of his life in Fair Lawn, Wyckoff, Skillman and Princeton, NJ.
Hanson was born in Minneapolis, MN. After eight years there, and a stop in West Texas, his family moved to Bergen County, NJ, where he met his high school sweetheart and later wife, Carol Jadick, while walking home from fourth grade.
After graduating from Fair Lawn High School, Hanson attended Cornell University, graduating in 1958 with a degree in economics. After four years in ROTC, he joined the Marine Corps, where he served in the 1st Marines Division, 5th Regiment based at Camp Pendleton, CA.
Hanson next joined the Chase Manhattan Bank, N.A., where he spent 18 years rising to become the youngest executive appointed to Senior Vice President to that point.
Hanson left Chase to work briefly for an industrial company and then joined Merrill Lynch, where he eventually headed industrial lease financing (which when sold accounted for 25 percent of Merrill's earnings one quarter) and building and leading the Working Capital Management Account business, WCMA, which is still a major Merrill product group.
As a member of the Nantucket Angler's Club, Bedens Brook Club and Nantucket Golf Club, Hanson was an avid sportsman, particularly in golf, fishing and shooting. He retired around the age of 60 and focused on these things.
He is survived by his wife of 64 years, and two children, Craig and Alex and their spouses, six grandchildren and two great-grandchildren.