CAA NYC Fall Reception
Registration closes Tuesday, September 20, 2022 at 11:59 pm (Eastern)
NOTE: You must log in with your password in order to register.
FOR ONLINE REGISTRATION
Click on "Click here" above. Then, c

lick on Add to Cart.
Click on Check out.
Click on Submit Transaction. Your name will appear.

Change your name if you want something different on your name tag.

Click on Final Transaction.

It will state, "The ticket [registration] for your party has been reserved."

You will also get a confirmation e-mail stating "Thank you for your order with ChaseAlum.org……

etc."
The reception is free to all dues-paying CAA members. Due to space limitations, we can only allow 150 members to register. No guests permitted.
Please be sure to contact Andrea at news@chasealum.org if you have registered for the event but find that you will not be able to attend.
Also contact her -- or add a comment to your registration -- if you want your name tag to read with a nickname or non-obvious moniker. We do not add degrees or titles.
LOOK WHO'S COMING (77 alumni as of 4:40 pm, Wednesday, Sept. 21, 2022)
* New member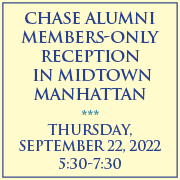 Thursday, September 22, 2022
5:30 pm to 7:30 pm
277 Park Avenue – 18th floor
(a JPMorgan Chase facility),
on the east side of Park Avenue,
between 47th and 48th streets
(across from JPMC's future HQ,
currently being built).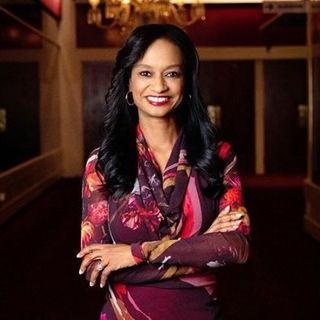 Racquel Oden,
Head of Network Expansion, JPMorgan Chase, will speak at the event.
Oden is Managing Director and Head of Network Expansion for Consumer Banking, leading a team of 3,000 people to take care of the JPMorgan Chase customers' needs, build trust in the communities that JPMC serves, identify locations for new branches and determine how the firm will grow market share across the country. Her team is also responsible for developing and sustaining Community and Business Development initiatives to drive economic transformation in expansion markets.
In her previous role as Head of National Sales, Oden was responsible for servicing 20 million customers in 48 states and driving sales across the firm in partnership with the Consumer, Business Banking, Auto, Home Lending, Credit Cards and Wealth Management lines of business
Prior to that, she was the Northeast Division Director leading the branch teams for the Consumer Banking and Wealth Management businesses in the Northeast Division, serving 4.9 million customers in the New York tri-state area with more than 10,000 associates and advisors managing more than $300 billion in deposits and investments. As the Division Director, Oden defined frameworks for bankers and advisors, and drove transformative initiatives to develop strategies to enhance and evolve the client experience.
Oden serves on the Boards of Directors for the Apollo Theater, New York City's Prep for Prep and The New York City Police Foundation, and on the National Board of Directors for the Thurgood Marshall College Fund.
Art Ryan, former president of the Bank, also plans to attend.
Many thanks to JPMC for hosting the event.
You must be a dues-paying member of the Chase Alumni Association to attend, and though there is no charge, you must pre-register.
To become a dues-paying member or renew your membership, please click here.