CAA NYC Fall Reception
Registration closes Monday, September 19, 2022 at 11:59 pm (Eastern)
NOTE: You must log in with your password in order to register.
FOR ONLINE REGISTRATION
Click on "Click here" above. Then, c

lick on Add to Cart.
Click on Check out.
Click on Submit Transaction. Your name will appear.

Change your name if you want something different on your name tag.

Click on Final Transaction.

It will state, "The ticket [registration] for your party has been reserved."

You will also get a confirmation e-mail stating "Thank you for your order with ChaseAlum.org……

etc."
The reception is free to all dues-paying CAA members. Due to space limitations, we can only allow 150 members to register. No guests permitted.
Please be sure to contact Andrea at news@chasealum.org if you have registered for the event but find that you will not be able to attend.
Also contact her -- or add a comment to your registration -- if you want your name tag to read with a nickname or non-obvious moniker. We do not add degrees or titles.
LOOK WHO'S COMING (40 alumni as of 10:30 pm, Sunday, August 14, 2022)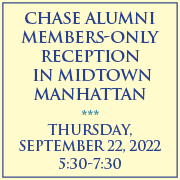 Thursday, September 22, 2022
5:30 pm to 7:30 pm
277 Park Avenue – 18th floor
(a JPMorgan Chase facility),
on the east side of Park Avenue,
between 47th and 48th streets
(across from JPMC's future HQ,
currently being built.
We expect that our group will be addressed
by a senior executive from JPMC.
Many thanks to JPMC for hosting the event.
You must be a dues-paying member of the Chase Alumni Association to attend, and though there is no charge, you must pre-register.
To become a dues-paying member or renew your membership, please click here.