Moments in Bank History:
An Irish Banking Revolution
Many thanks to David Humphries for scanning and sending us An Irish Banking Revolution, which tells the fascinating story of an Irish banking institution, beginning with the formation of the Irish National Land Bank in 1919, its evolution as National City Bank Ltd. during turbulent political and economic times, and developments before and after it became Chase & Bank of Ireland (International) Ltd. in a joint venture. Chase took over full ownership in 1979 and also aquired Chemical Bank Ireland in 1993.
Below is a photo of David Rockefeller on a 1983 visit to the Dublin office of the joint venture:
(Left to Right) Sylvia Fleming, Niall Gaffney, Margaret McCormick, Mary Jones, Denise Staunton, Eoin Butler, David Humphries, David Rockefeller, Douglas Bonnar (Country Manager), Charles Kitching, Carol Blay, Peter Meehan, Jim Dwyer (HR) and Marion Cahir.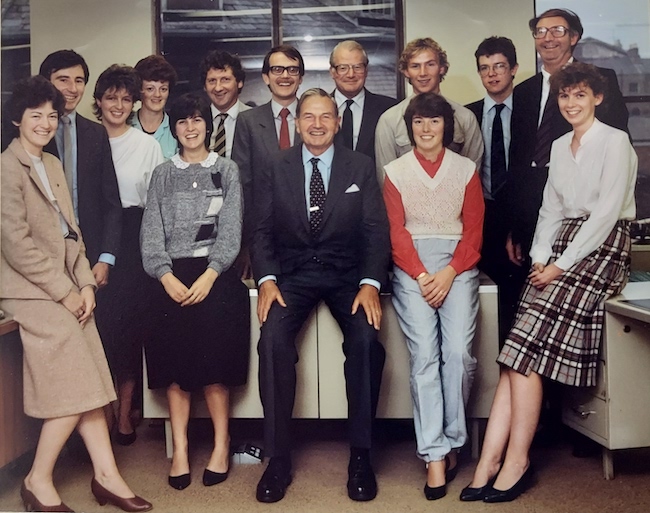 * * *
David Humphries began his banking career with Bank of Ireland in 1965, serving in many of their branches throughout Ireland.
In July 1971, he joined the Belfast office as Chief Clerk of Chase & Bank of Ireland (International) Ltd. In December 1980 he transferred to HQ in Dublin as Operations Manager.
In January 1988 the bank rationalized its business in Ireland, resulting in closures. In February 1988 Humphries joined the Europe Area Office of Chase Manhattan Bank in London as a Second Vice President Area MIC. The following April he was promoted to Vice President.
In May 1989, Humphries resigned to return to Ireland and pursued a financial services career in Dublin. He retired from Financial Services in 1997 and made a real switch, to work in tourism.
Read the Book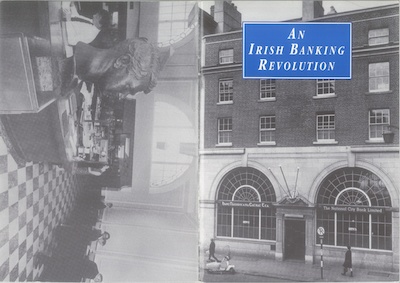 The 44-page book is printed here in two parts, to accommodate file size limits on our system.
An Irish Banking Revolution
___________________________________
Send comments or your own "A Moment in Bank History" story to news@chasealum.org.