In Memoriam: Fred McCarthy, 76
35 Years in Chase Corporate Controller's Office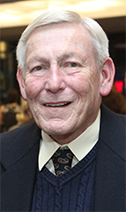 Frederick (Fred) F. McCarthy, 76, of Ridgewood, NJ, died of cancer on September 22, 2022. A longtime member of the Chase Alumni Association, McCarthy had worked in the Corporate Controller's office at Chase Manhattan and Chase from 1968 to 2003.
McCarthy grew up in Radburn, NJ, and graduated from Fair Lawn High School and Farleigh Dickinson University. He served in the U.S. Army in Vietnam before joining Chase Manhattan in New York City.
He spent his retirement enjoying gardening, classic and folk rock, and laughing with friends and family. McCarthy loved Ridgewood and cherished the fact that his three sons and daughters-in-laws returned to the area to raise his eight grandchildren. He is survived by them as well as his wife of 53 years, Patricia (Pat), and a sister.
Relatives and friends are invited to come celebrate his life at the VanderPlaat Funeral Home (257 Godwin Avenue, Wyckoff, NJ) from 5-8 pm on Monday, September 26th. On Tuesday, September 27th, following a mass at 9:30 am at Church of the Nativity (315 Prospect Street in Midland Park, NJ), burial services will be held at Valleau Cemetery in Ridgewood, NJ.

In lieu of flowers, memorial donations may be made in McCarthy's memory to the Valley Hospital Foundation.