Life After Chase: Ronald Mayer
Honored by NYLAG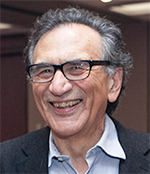 The New York Legal Assistance Group (NYLAG) honored Chase alumnus Ronald Mayer on October 27, 2022 with its 2022
Pro Bono Awards' Legacy Award.
Mayer worked for Chase as a regulatory attorney in the legal department and as Corporate Secretary between 1981 and 2006.
Following his retirement, he took a turn into pro bono legal services (as well as explaining various facts and trivia about the sharks exhibit at the American Museum of Natural History).
Having seen the difficulties of navigating an unfair healthare system, he began supporting NYLAG's Evelyn Frank Legal Resources Program as a pro bono attorney. Sixteen years later, he is still helping older adults navigate the healthcare system and find ways to pay for their care. NYLAG hailed his excellent services to clients and unwavering dedication.
Congratulations, Ron!
Do you have comments or a story (or award) of your own?
Please send to news@chasealum.org. You can submit your story fully written or ask to be interviewed.