UK Holiday Lunch at the RAF Club
Monday, 5 December 2022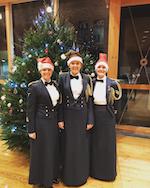 UK (AND VISITING) ALUMNI: The UK Alumni Holiday Lunch will be held on Monday, 5 December 2022, from 12:30 to 15:00.
Richard Ingham has kindly offered to host an Alumni Christmas Lunch at the RAF Club, 128 Piccadilly, London.
Lunch will be held in the Presidents Room, with pre-lunch drinks in the adjoining 601 Squadron Room. Dress code: Jacket & Tie, with equivalent formality for women.
The cost is
£40 (food and wine) for
dues-paying
CAA members and
£65 for non-members. The deadline for reservations is past, but p
lease contact Chapter Coordinator Simon Mansfield to see if there's an opening and for payment instructions.
Look Who's Coming
As of 20:55 (GMT)
on Tuesday, 29 November 2022:16
Anne-Marie Barcia