In Memoriam: Hugo Wyss, 89
Considered the "Dean of Commodity Finance"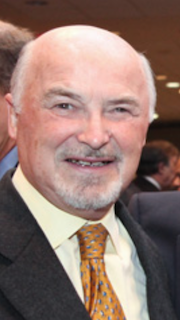 Hugo Wyss, whose name became synonymous with Commodity Finance, died on November 27, 2021. He had lived on Roosevelt island, NYC,
and in Cornwall, CT.
Wyss was born in Switzerland in 1932 and emigrated to the United States with his parents and sister in 1950. He served in the U.S. military and graduated from Middlebury College. Wyss joined The Chase Manhattan Bank and completed the Chase Global Credit Training Program in the 1960s. From 1968 to 1974, he
he worked at Chase in Geneva, before returning to the Chase International Trade and Commodity Finance Division in New York. There, Wyss flourished as a relationship banker who came to know, and be known by, almost everyone in the industry.

Over the course of a multi-decade banking career that spanned the 20th and 21st centuries, Wyss was considered by many to be "the dean of commodity finance" thanks to his tenure and first-hand historical experience with the business and key players. After working in commodity finance at Chase, where he managed the grain team and later the soft commodities teams, Wyss retired from Chase in 1988 to join UBS. He started that bank's Commodity Finance Group, which grew to become a global business for them. In 1999, when UBS sold its commodity finance business to Standard Chartered, Wyss worked as a consultant for that bank. Later on he consulted for Bank of Tokyo Mitsubishi UFG.
Wyss is survived by his wife, Meta, his daughters, Mimi and Hilary, two sons-in-law and four grandchildren.
Remembrances
From Jean Marc Bara:

Hugo was a calm, steady person
who brought keen perspective, balance and leadership in
providing financing for essential businesses which are also
renowned for volatility and sometimes chaos due to political
risk, natural disasters and occasional fraud! Hugo is
remembered fondly by many for his humor, skill and
From Neil Sweeny:
I remember Hugo much like Jean Marc
…a very steady hand at the helm of a very volatile
business for Chase. He was head of the "soft Commodity
business" while I was in Hong Kong and in London. He will
be missed by all that knew him. RIP Hugo!
From Bruce T. Richards: Hugo and I left Chase on the
same day to join UBS. I learned a great deal from Hugo
over the years, but most of all I remember his wisdom,
integrity, zest for life and a sense of humor which could
defuse any tense situation. A friend of mine who ran
commodity finance at another major bank once asked me,
"When is Hugo ever going to retire? Every time I suggest a
new financing strategy to a client, they reply, that sounds
interesting but I want to get Hugo's opinion." A great
compliment from a keen competitor!
From Terry Mullervy: I worked with Hugo in Commodity
Finance and later as a client at Glencore. Hugo was tops
in his field. Commodity bankers looked toward him for
guidance on market trends and developments. He knew
how to develop and nurture client relationships. Chase
and later UBS were very fortunate to keep him for those
many years.
Hugo was a loyal friend with a great sense of humor. I
remember an instance which exemplifies his witty side: in
1983 I was with Hugo at a rental car counter in Zurich
airport. We were renting a car, driving to Zug to visit a
client. The attendant said he was very low on cars, but had
one which was just returned, however it was dirty as the
driver had a long haired dog with him. Hugo quickly
responded, "We will take it and I will drive." I said, "Are you
sure you want to drive, Hugo?" He answered, "Absolutely.
Have you ever seen a dog drive?" Then, of course, he let
out that bellowing laugh of his.
May Hugo rest in eternal peace.