In Memoriam: Joan Polcari, 71
Had Worked in Marketing for Chase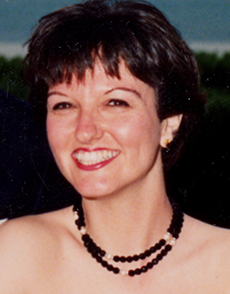 (From her husband, John Polcari, also a Chase alumnus)
Joan M. Polcari
November 28, 1950 – November 20, 2022
Having taught us all how to face life's challenges with courage, patience and love, Joan passed away on November 20, 2022 in Manhasset, NY, with her husband, John, at her side. During the past decade, Joan endured many health issues resulting from a particularly advanced case of Sjogren's syndrome, a rare autoimmune disease, that in her case necessitated a lung transplant in 2017.
Anyone who knew Joan will remember her smile, enthusiasm and fun-loving personality. It embraced your soul with warmth, compassion and an understanding that here was a person who would always be there for you.
Joan and John met at Chase Manhattan Bank, married in 1989, and lived in Manhattan. In 1992, they moved to Manhasset, NY, where Joan was active in the Norgate Civic Association. The couple enjoyed traveling and experiencing new cultures—both near and far. In her younger days, Joan toured art galleries and museums with her sister, Barbara, and niece, Laura, and that interest in the art world continued throughout her life. Over the years, she and John have supported several philanthropic and medical organizations, such as the Manhattan Theater Club, the Cystic Fibrosis Foundation and the Sjogren's Foundation. Joan treasured family and one of her favorite pastimes was researching family genealogy, discovering ancestors and distant relatives, and documenting oral histories.
Joan had a successful career in bank marketing at Chase Manhattan and, later, as Vice President at The Bank of New York. In 1998, she became an entrepreneur by establishing her own innovative marketing consulting firm. An outgoing personality and wonderful sense of humor, along with attention to detail, in-depth planning and flawless execution made marketing a great fit for Joan's many talents.
Having grown up in Massapequa Park, Long Island, Joan graduated from Alfred G. Berner High School and received a BS in Education from St. John's University in Queens in 1972. She was an active member of the Alpha Sigma Alpha sorority. Throughout high school and college, Joan belonged to the glee clubs where she was blessed with close friends, many of whom continued to stay in touch decades later with a phone call, particularly on her birthday.
Joan is survived by her husband of 33 years, John, her sister, Barbara O'Dea (husband Michael), John's siblings Jim, Frank and Kate (spouses Marijayne, Ruth and Al) and 11 nieces and nephews. In lieu of flowers, memorial donations may be sent to the Sjogren's Foundation at https://www.sjogrens.org/
Remembrances
From Lisa Barbaro:

Joan was my friend—the best friend anyone could ask for. She was warm, caring, fun and loyal. Having met at Chase in 1978, we became friends almost immediately and remained such throughout our lives. In good times and in bad, you could always count on Joanie to be there
In recent years, she had significant health challenges resulting from Sjogren's syndrome. Joan received a lung transplant in 2017, and the anti-rejection medication paved a difficult road for her. Yet, despite everything she was going through, whenever I called, she had a smile in her voice, courage in her heart, and love and gratitude in her soul for her friends and family, particularly her wonderful husband, John Polcari, who was with her every step of the way.
It's not often you're lucky enough to know someone like Joan. I will always be thankful for the privilege of being her friend.
From Ken Jablon: I knew Joan when she was still Joan Scandurra--more than 40 years ago. I only knew her from the bank and from get-togethers associated with the bank, but she always greeted me as if we had been long-lost friends. Her smile and personality would light up any room that she was in.
My sincere condolences to John.
From Lou Foery: I remember Joan for her wonderful smile and happy demeanor. I also remember John as a hard working and dedicated colleague always willing to support others. My deep condolences to John and the family for their loss. May Joan rest in peace and God's blessings and comfort to her loved ones.
From Martin Katz: Such sad news. Joan was a delight. She always had a smile on her face. A wonderful Chase associate who was a pleasure to know and work with. May her memory be a blessing.
From Jim Ross: It's been many years since seeing Joanie, but I remember her laugh and smile as though I was with her yesterday. My condolences go to John and her extended family.