In Memoriam: Frank J. Ferington, Jr., 96
36 Years at the Bank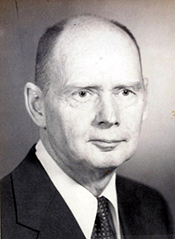 Frank J. Ferington, Jr., 96, died on May 30, 2021 in Staten Island, NY. He worked for Chase and its heritage banks for 36 years.
Born in 1924 in Queens, NY, his early childhood was spent in the midst of the Great Depression. He attended local public schools and graduated from high school in 1943 before enlisting in the U.S. Army.
Ferington served in the Pacific area until 1946 and then served two years in the U.S. Coast Guard.
In 1948 he joined Guaranty Trust Company of New York, a predecessor of JPMorgan Chase, in their Custody Department, where he met his future wife, the then Barbara A. Kalaliki. She survives him.
Through the years he held various positions at Chase and retired in 1984 with the title of Assistant Secretary.
Ferington loved reading the classics, and he loved all animals, especially horses. Through the years he had several dogs, cats, fish and even a chameleon. He and his wife spent many weekends on the Dog Show circuit showing their dogs.
.