In Memoriam: Roger Neil Schindler
In Operations at Chase in the 1970s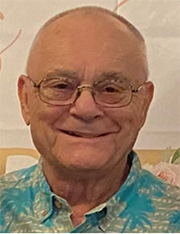 .
Roger Neil Schindler, 81, of Hot Springs Village, Arkansas, died on December 21, 2022.
Schindler was a vice president in operations for Chase Manhattan from about 1972 to 1977.
Born in Rochester, NY, he served in the U.S. Navy for six years before starting his business career. He served in the civil sector on volunteer fire departments and EMT as well as his most recent commitment as Vice Commander with the American Legion Post #123.
Survivors include his wife of 41 years, Kaye Schindler, three daughters, a son, 11 grandchildren and seven great-grandchildren.
Remembrances
From Tom Buda: I've been friends with Roger for over 50 years. We met at Weeden & Co., my first job after the military. I worked for him for a few years before he left for Chase Manhattan. Roger introduced me to the firm. He took my resume and was instrumental in helping me secure a position. We both worked in the Operations Dept. at 1 NYP, which was then headed by Barry Sullivan.
Writing this for Roger today helped me reminisce. We worked hard, laughed a lot and had fun times together. He was a special guy.
We remained good friends since those days, speaking with each other on a regular basis and crossing paths several times on my Arizona trips. We knew everything about each other and our respective families. I will miss him dearly.