In Memoriam:
Margaret (Peggi) Einhorn, 69
SVP at Chase in 24-Years with Bank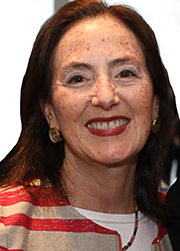 Margaret (Peggi) Einhorn, who retired from Chase as a senior vice president in 2004, died on February 9, 2023 at the age of 69. A longtime member of the Chase Alumni Association, she had lived in Brooklyn, NY.
Embodying a rare combination of analytic and creative acumen, Einhorn enjoyed a career in finance, a dedication to the arts, and a commitment to mentoring others.
She received her BA in Art History from William Smith College and first worked in museums, including The Metropolitan Museum of Art and The Jewish Museum. After receiving her MBA from Columbia University in 1980, she began a 24-year career at Chase. She worked in a number of areas of the bank, including North American Corporate Finance, Financial Planning and Corporate Treasury
The day after she left Chase, Einhorn joined the Robert Wood Johnson Foundation as its CFO and Treasurer, overseeing the financial operations of this $11 billion private philanthropy. For the next 16 years, she passionately implemented, through her words and deeds, the Foundation's mission of improving health equity and creating a culture of health. She retired in January 2021.
Einhorn was the former Chair of the Board of The Brooklyn Childrens' Museum, serving on the board for more than 30 years, and helping shape its strategic direction and growth.
She was also a former David Rockefeller Fellow, speaking frequently to young professionals of all backgrounds about the value of integrating social purpose and non-profit activities into private sector careers. She was also a trustee and treasurer of the Long Beach Island Foundation for the Arts and Sciences.
Among her survivors are her husband of 44 years, Michael Lasky, her daughter (Allison), son (Andrew), and two brothers, including Chase alumnus Andrew Einhorn.
Click here for an interview with Einhorn from 2011.
Remembrances
#
A Celebration of Peggi's Life will be held on Sunday, March 19, 2023 at 1 pm at The Brooklyn Children's Museum. CLICK HERE FOR DETAILS.
(RSVPs requested for those planning to attend in person + Zoom Information)
From Stan Schrager:

This is very sad, sad news. Wishing Michael and family my sincere condololences.
I met Peggi in the 80's when she and I both worked in Corporate Finance – Peggi in Finance, me in HR. Not only was Peggi extremely bright, she was a delight with whom to work with - knowledgeable, fun, involved. When I think of Peggi, I think of a person with a good heart.
Not only was Peggi very helpful to me, and many others, we also shared stories about our families and raising children. She was just terrific. I valued our relationship.
When I heard of her illness, I tried to reach out, but Peggi was having some difficultly communicating, so unfortunately I was unable to connect.
May she rest in peace!
From Hans Heinsen: I was so sad to hear about Peggi's passing. I met Peggi when she joined the Credit Training Program. Right away I knew she was a talented person who would be successful in any endeavor. She had such
poise, demeanor and confidence to go along with her intellect and her kind personality. Her subsequent career certainly validates all those initial impressions.
My prayers and thoughts are with her family.