In Memoriam: Micheline Samuel, 74
VP at Chase Data Center in 1980s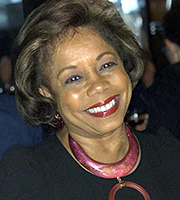 Micheline Christiane Fontaine Samuel died on February 27, 2023, having fought multiple myeloma for the last 15 months. She was 74.
According to her daughter, Samuel came to America in 1968 with her sister Monique to be with their mother, who forged a life for her girls that would give them the freedom to live expansive lives far beyond the boundaries of their island home of Haiti.
Mich, as she was affectionately known, spoke little English when she arrived, went to school at the American Banking Institute, mastered a new language, graduated summa cum laude from Adelphi University and conquered Wall Street. She retired as a Vice President from JP Morgan Chase after 35 years, accomplishing projects within the Data Center at headquarters, like the first installations of ATM machines in the 1980s and the creation of the website Chase.com, which would allow online banking to be possible, work that brought her great satisfaction.
All the while, she indulged in her love for dance in Latin ballroom and never lost thispassion --which continued into 2020 when she competed with Arthur Murray Dance School of Vienna, VA.
Her next career adventure in the early 2000s would allow her to rely on her passion for her native language, using her multilingual skills in French literature and her sharply honed talents as a corporate negotiator and manager to help oversee the infrastructure projects for a France-based company that built large scale projects in America.
Her third and equally rewarding retirement career began in 2011: She was as a language teacher in her adopted home of Guadeloupe, in the French West Indies, where she lived for nearly a decade. Her greatest achievement was teaching English to the children whom she loved and the many people who would become near and dear friends and surrogate family.
In the last four years she lived to Washington, D.C., where her only child got to watch her live out her goal of working on a political campaign, going to protests to advocate for the rights and human freedoms she's always championed – an experience that made her deeply proud to be an American, with a global reach.
Among her survivors are her daughter, Stacey Samuel, her ex-husband and lifelong friend Michael J. Samuel, three nieces, and five grandnieces and nephews whom she considered her grandchildren.