In Memoriam: Martha Reilly Hinchman, 71
Began Long Financial Career at Chase Manhattan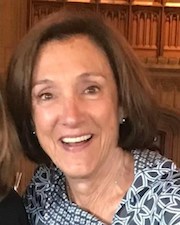 Martha Jane Reilly Hinchman,
who started a long career in financial services at Chase Manhattan, died March 10, 2023 of colon cancer. She was 71.
Born March 26, 1951, in Worcester, MA, she attended schools in Hinsdale, IL, and finished her secondary education at The Hockaday School in Dallas, graduating in 1969.
She earned a BA in economics at Wellesley College, where she graduated
summa cum laude
in 1973.
Hinchman began her career as a lending officer with Chase Manhattan Bank in New York, where she advanced to become a Vice President. There she met William Rossiter "Bill" Hinchman, whom she married in 1982.
A job change for her husband took the couple to Salt Lake City in 1983, and the following year their daughter, Elizabeth, was born.
In 1987, her husband took a job with First Chicago Bank and the family relocated to Lake Forest, IL, where Martha returned to the work force with Northern Trust Co., where she served for 24 years, becoming a Senior Vice President and managing director of the Lake Forest offices.
She was active in many community and philanthropic pursuits, including as a committee member of the United Way of Metropolitan Chicago, as a past President of the Lake County Community Foundation, as a board member of the Buchanan Family Foundation, and as a Mentor with the corporate mentoring program Menttium. She was co-chair of the 50th Reunion Committee of the Wellesley College Class of '73.
She loved to travel the world, spend time with friends and her extended family, practice her faith and care for her succession of dogs, including her two beloved Wheaton Terriers, Wheaties and Reilly.
Among her survivors are her daughter, Elizabeth Hinchman Morrison, and son-in-law, Cameron Morrison of Lewis Center, OH, and their children - Reilly Ann and Vaughan,as well as her stepchildren, Lee Hinchman Hobbs and William R. Hinchman III, both of Dallas, Lee's husband Jack Hobbs and their children Catherine and Jack of New York, and Billy's wife Ouma and son William P. "Ty" Hinchman.
She will be laid to rest, alongside her late husband, in a private ceremony at the Church of the Holy Spirit in Lake Forest. There will be a memorial service at the church on April 15, followed by a reception at Knollwood Country Club in Lake Forest.
Her Caring Bridge site can be found at this link:
https://www.caringbridge.org/visit/marthahinchman
In lieu of flowers the family requests donations be made to
Wellesley College
,
The Hockaday School
or the
Lake County Community Foundation
.