In Memoriam: Fulvio Vladimir Dobrich, 74
Ran MHT's Milan Office in the 1970s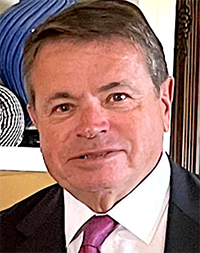 Fulvio Vladimir Dobrich, 74, of Westport, CT, died from drowning in a sailing accident off Tortola, BVI, on February 7, 2022. He was an executive in Manufacturers Hanover Trust's international division in the 1970s, including a turn as general manager of MHT's Milan office.
Dobrich was a larger-than-life figure, a successful multi-lingual international financier who was energetic and ever-curious, with a strong grasp of world history and politics.
He worked at MHT from 1973 to 1989, primarily in the International Division. He left MHT as a senior vice president. In 2003, he became a managing director of Galileo Asset Management, leaving three years later to become a Principal at Meldrum Asset Management, a position held at the time of his death.
According to his family, Dobrich felt most at peace roaming the world on his beloved S/Y Istria.
Youthful, adventurous and endowed with a passionate and enduring zest for life and risk unusual for a man of his age, he influenced the lives of many, showing them extraordinary generosity, warmth, moral support and always a guiding sense of greater possibility.
A teen emigrant who left a poor Istrian village in Croatia with his family to escape Communism, Dobrich became an ardent New Yorker, intensely proud of his public school education in Hell's Kitchen and at City College, where he was a devoted alumnus.
He served on the Advisory Council and the Board of Visitors of CCNY's Colin Powell School for Civic and Global Leadership and was a member of City College's 21st Century Foundation board.
He also created the Fulvio V. Dobrich New American Scholarship Fund, which provides full scholarships, stipends and mentoring support to immigrant students. He instituted a similar program for first-generation students at Wake Forest University.
An anti-snob, he held an abiding compassion for the many worthy deprived of privilege or opportunity.
He is survived by his wife of 27 years, Maggie Mudd, and their sons, Jack Dobrich of New York and Andrew Dobrich of Los Angeles, and his daughter from an earlier marriage, Erin Dobrich of Westport.
Remembrances
From David Weisbrod (April 9, 2023): Fulvio was indeed a larger-than-life figure; I first met Fulvio when I was head of Risk for Chase in Milano and Fulvio was General Manager of MHT. We became lifelong friends.Fulvio was a banker with enormous talent and well-deserved success, but his social activism and support of the Colin Powell program are the legacies that most reflect this remarkable man. As a penniless immigrant when he arrived in the US, Fulvio's personal drive, intelligence and great skills produced such lasting contributions; his work paved the way for others. Fulvio always knew that his good fortune to have come to the United States was something he could never repay and his dedication to the American ideal was something he expressed all of the time. We miss him every day.
From
Jerry Hannon
:
Fulvio was one of those larger than life figures at Manny Hanny, and a joy to be around. I dealt with him primarily when he was the head of our Milan office, during my Automotive Industries days, but knew him in New York when he was one of the seniors on the Yugoslavia and Balkans desk. If memory serves correctly (a risky assumption), I recall that he was the lead banker when we restructured the debt of Yugoslavia. He was certainly a presence that many, who knew Fulvio, will miss.
From Francis Needham (April 30, 2023): I am very sorry to read this. I was member of the Internal Audit department at MHT which visited the Milan unit for annual reviews. I remember Fulvio as a very hands-on manager who always gave his time to the audit team and was very patient and helpful. This does bring back good memories of the camaradarie at MHT.