In Memoriam: Sir Win Bischoff, 81
Legendary Financier, Ex-Chair of JPMC UK Unit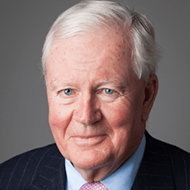 Sir Winfried Bischoff, who stepped down in December 2022 after a seven-year term as chair of JPMorgan Securities, JPMorgan Chase & Co.'s main operating business in the UK, died on April 25, 2023 after a short illness. He was 81.
Jamie Dimon, JPMC's chairman and CEO, called Bischoff "a giant of our industry".
"A pivotal and calming leader through the financial crisis, his wisdom has left an indelible influence on our management teams. It is a true honor to have worked with him so closely," Dimon added in a statement.
Born in Aachen, Germany, Bischoff was a former chairman of Lloyds Banking Group and Citigroup. He had also been CEO of Schroders.
According to the

Financial Times,

Bischoff grew up in wartime Germany before moving with

his family to South Africa to live in apartheid-era Johannesburg. In 1955, he moved to Johannesburg where he received a Bachelor of Commerce degree at the University of the Witwatersrand in 1961. He then moved to New York, where he attended New York University and started his career in Chase Manhattan's International Department in 1962 – leaving for Schroeders in 1963.
Between May 2014 and October 2019 he was chairman of the UK Financial Reporting Council.
Bischoff was a member of the 30% Club, a group of FTSE-100 chairmen committed to having women constitute at least 30% of their board members.
He was knighted in the 2000 New Year Honours for services to banking.
His wife, Rosemary, predeceased him. Among his survivors are two sons and five grandchildren.