In Memoriam: Clara Duran, 87
Executive Assistant Who Mothered Her MBA VPs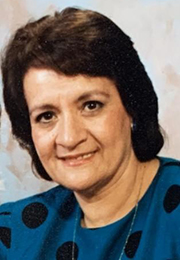 Clara Durán, who worked for Chase Manhattan Bank as an executive administrative assistant for many years, died on May 7, 2023. She was 87 and living in Wilmington, DE.
Born in Colombia, the great niece of a renowned Colombian poet and the daughter of a physician father and a radio personality mother. One of nine children, her childhood passed taking care of her younger siblings and enjoying her family life when not in school.
According to her death notice, she loved her job at Chase Manhattan, "where she mothered all the young MBA Vice Presidents. She even typed their dissertations.:
After retirement from CMB, she moved to Wilmington, where she worked at Saint Francis Hospital as a social worker and interpreter serving the community. "She just couldn't remain retired. Her coworkers remember her running around the hospital taking care of families, and carrying clothing and supplies that she collected to support many poor families and young pregnant women," her death notice continued. "Clara finally retired to work at home surrounded by her cats and dog, flowers, dedicated to writing her beautiful autobiography and enjoying her life with her children and four grandchildren."
Memorial gifts may be sent to the St Veronica Giuliani Monastery.