A Moment in Bank History: Elsie (Siuwan) Low
To Catch a Thief


MHT Sunset Park Branch, 1986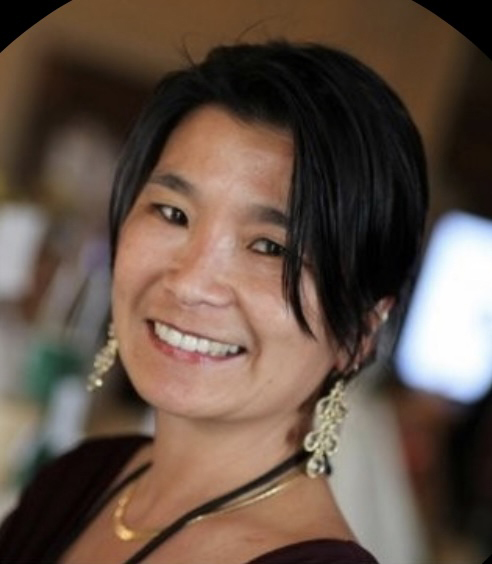 Elsie (Siuwan) Low helped foil a robbery at Manufacturers Hanover Trust's Sunset Park Branch (Branch 87) on September 23,1986, about a year after she joined the bank.
She recently sent us this letter that Ed Miller, the sector executive vice president, wrote to her three days after the attempted robbery, and then some details about the robbery itself and her time at the branch, at 5101 Fourth Avenue, Brooklyn.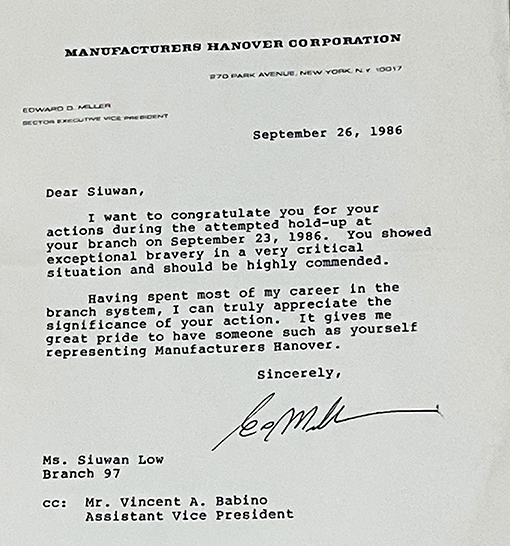 "The interaction was just between the robber and me. I was working at the commercial window closest to the door and across from the manager's platform. The branch was old, so it had a thin wood partition with metal bars that separated the tellers from the customers. If there were packages of cash or coin deposit, we would unlock the little gate to take in the package.

"The robber appeared at my window with dark sunglasses and a baseball cap pulled over his eyes. He slipped the note under the gate, the note saying something like "put all the money in a bag". I looked up in surprise, thinking it was one of my usual customer joking around with me. But I saw a strange face, and he said in a deep voice, "Be nice and do what I asked." I think he said he has a gun.
"My knees went weak. I ducked under the tall counter and pulled the silent alarm. It was a busy day so the more senior teller next to me looked at me kind of annoyed and said, "What are you doing under there?" I whispered, "Is there anyone at my window?" She said no! I slowly got up, shaking with the note in hand. I walked around the U-shaped corridor to the other side of the bank where the bank managers are. By then, police sirens could be heard, and I think they were rushing in. I remember explaining to Vincent Babino and Agnes, the assistant manager (I don't remember her last name). Then there were conversations with the police, who asked why I didn't just give him the money. If he had a gun, he could have shot me through the thin wood partition. I don't know why I reacted the way I did. I guess I am blessed that he did not shoot me.

"So it is not an extravagant story but it certain sheared into my mind how training causes people to react as trained in stressful situation. Maybe because I was VERY young!"
* * *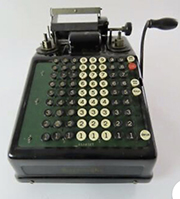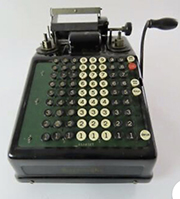 "I had to learn how to use an adding machine (see photo) at this branch when I started. I have no idea why because I was using a calculator in high school already. I was too young to question anything. I transferred out to the West 4th Street branch in NYC shortly after the hold up. and they were using the calculator with the printout.
* * *

"One more fun fact, I met my husband at that Brooklyn branch – which may be a more fun story to tell. He worked for a woodworking company and did the deposit for his boss every Friday while cashing his pay checks. I used to make little complicated origami with the many different color slips we used back then. He complimented the array of models on my terminal and said we should partner to make big ones to be lacquered into furniture pieces. But he never asked me out. Week after week we would just have our pleasantry to wish each other a good weekend. I was engaged at the time also. After my transfer and a horrible breakup with my fiancée, I began to think of this kind and sweet stranger. I must say working in the Greenwich Village exposed you to all kinds of "Why Not?". I sent a greeting card to his workplace without remembering his name with an origami frog in a little jewelry box. His boss called me a few days later just before the morning rush. Lines of customers were at the windows while I (with bright red cheeks) explained to whom I intended to send the parcel. He thought the package was for him. Then he said, "D is in Hawaii and will be back in a week!" and hung up. We went out a few weeks later and the rest is history. It was he who pushed me to go back to college to get my degree. It was he who supported me through school when I felt so defeated. It was he who handed out my resume to anyone and I mean anyone he encountered when I couldn't find a job after graduation! It was he who volunteered to be a stay-at-home dad to take care of our child with disabilities. He has been the someone who understands for almost 40 years and I met him over the teller window at the bank!

Anyways, just thought I would share, since my job at the Brooklyn branch was a turning point in my life!
Comments
From Philip Sorace (8/6/23): Elsie, I think your second story is far, far more significant than the first. Any memories of the robbery attempt should be erased, while the joy of encountering the love of your life should be, and I am sure is, richly and deeply cherished. Warmest best wishes, Phillip