In Memoriam: George M. Rapport, 80
Bronze Star Recipient Was at Chase 1968-2001
(As seen in The New York Times)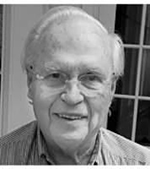 George M. Rapport, age 80, of Madison, CT, passed away peacefully on July 11, 2023. He is survived by his beloved wife of 34 years, Jane H. Rapport, and their son, Nicholas, as well as sons Michael and Allan, from his first marriage to Anita Stoneman, and four grandchildren.
He was born Georgi Nikolaevich Prokopoff on June 28, 1943 in Manila, Philippines, to Tatiana Yastreboff and Nikolai Prokopoff. Nikolai was tragically killed in 1945, shot by a Japanese sniper during the American liberation of Manila. Tatiana later married Michael Rapport, who, by adopting George, gave him the Rapport family name, American Citizenship, and a brother, Jack M. Rapport.
Rapport graduated from the Virginia Military Institute (VMI) in 1964 with a BS degree in Physics. He then earned an MA in Public and International Affairs from the Woodrow Wilson School at Princeton University, before commissioning in the U.S. Army in 1966. He served as Battery Executive Officer for Charlie Battery, 7th Battalion,15th Artillery in Vietnam from 1967 to 1968, where he earned the Bronze Star Medal for his service in the conflict.
He joined the Chase Manhattan Bank in 1968, where he enjoyed a 32-year career which included assignments in Paris, London, Brussels, and New York, primarily related to serving clients in the oil and gas industry. After retiring from Chase in 2001, Rapport became Chief Financial Officer of a privately held energy company based in London, before retiring to Madison, CT in 2007.
Rapport was devoted to VMI throughout his life, and was proud to have served for eight years on the VMI Foundation Board. The four years George spent at VMI profoundly shaped his character. The bonds among his Brother Rats were every bit as strong as they approached their 60th reunion as they were back in the early 1960s.
A true Renaissance man, he was brilliant, had a great sense of humor, cared deeply for others, and was kind at heart – a true friend and Brother Rat. Rapport was passionate about many things in life, including military history, sailing, skiing and science, but his family brought him the most joy. He was enormously proud of each of his sons.
Memorial contributions in his name can be made to the VMI Museum Fund or the Alzheimer's Association.