In Memoriam: David Frey, 81
MHT Alum Guided Family Founded Bank in Grand Rapids Through Mergers Ending with JPMC Ownership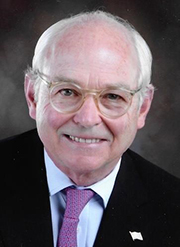 David Gardner Frey, an alumnus of Manufacturers Hanover Trust who returned home to Grand Rapids, MI to succeed his father as chair of the bank his grandfather founded, which was eventually sold to Bank One and merged into JPMorgan Chase, died on June 14, 2023. He was 81.
Born and raised in Grand Rapids, Frey graduated from the Cranbook School, Bloomfield Hills, Michigan, in 1960. He went on to earn a BA in English and law degree from the University of North Carolina at Chapel Hill, where he would eventually be the William R. Davie Award (2013) and the Dean's Award for Distinguished Service (2015) for his lifetime of extraordinary service to and exceptional vision for, and strong leadership at the university. In addition to his active involvement in the UNC, Frey, individually and through the Frey Foundation, demonstrated an extraordinary level of enthusiasm for the University of Michigan, where his wife, father and many family members attended.
Frey served in the U.S. Navy, including a tour of duty as an Aide and Flag Lieutenant to Commander Service Group III during the Vietnam War.
After four years working in the banking industry in New York with MHT, Frey returned to Grand Rapids in 1975, eventually succeeding his father, Edward J. Frey, as Chairman of Union Bank & Trust Company, the bank founded by David's grandfather in 1918. Frey led the bank through a series of mergers – including with NBD-West Michigan, which later merged with Bank One. Frey became chairmen of Bank One-West Michigan.and remained an executive and advisor through 2004 upon its merger with JP Morgan Chase.
In 1978, Frey married Judith Campbell Spindle, a widow of four children. They raised the four children along with two sons of their own. They traveled extensively throughout their 45 years together.

Frey was first and foremost a proud Grand Rapidian, serving on various boards and leading significant community development. Much of current-day Grand Rapids reflects his efforts to develop Grand Rapids into a great national mid-sized city. He found success leveraging public- private partnerships for the betterment of the community. Perhaps the most visible manifestation of his commitment to Grand Rapids' development and these partnerships was as co-chair of Grand Action (1992-2018) and Chairman of Grand Design (1995-1997). His leadership in both brought to Grand Rapids Van Andel Arena, DeVos Place Convention Center, the downtown Grand Rapids Grand Valley State University Campus, a historic renovation of Meijer Majestic Civic Theatre, Michigan State University of College of Human Medicine and the Downtown Market.
Later (2009-2013), he co-led the fundraising effort for the construction of Grand Valley State University's Seidman School of Business and International Trade Center. Frey further supported Grand Rapids through decades of service to various boards, including the Grand Rapids Community Foundation, United Way of West Michigan, The Frey Foundation, founded by his late parents in 1974, and the Gerald R. Ford Presidential Foundation. Frey was proud to have served as an honorary pall bearer for former President Ford.
Frey also was a long-time board member for Foremost Insurance Company, founded by his father in 1952. Frey's passion for and commitment to the development of Grand Rapids continued up until the time of his death with his involvement in Grand Action 2.0 (2018-2023), which is focused on bringing an amphitheater and professional soccer stadium to Grand Rapids.
He is survived by his wife, Judy, of 45 years; children William K. Spindle (Michele), Robert K. Spindle, David K. Spindle (Katie), Jennifer S. Fee (Michael), David G. "Tripp" Frey, Jr. (Lucy), and Campbell W. Frey (Alice); 15 grandchildren; siblings, and numerous nieces and nephews.

Memorial contributions may be made in David G. Frey's honor to the Grand Rapids Community Foundation, 185 Oaks Street SW, Grand Rapids, Michigan. 49503, the Gerald R. Ford Presidential Foundation, 303 Pearl Street NW, Grand Rapids, Michigan. 49504, or a charity of one's choosing.