Registration closes Friday, September 29, 2023 at 9 am (Eastern)

NOTE: You must log in with your password in order to register.
Click on "Click here" above. Then, c

lick on Add to Cart.

Click on Check out.

Click on Submit Transaction. Your name will appear.

Change your name if you want something different on your name tag.

Click on Final Transaction.

It will state, "The ticket [registration] for your party has been reserved."

You will also get a confirmation e-mail stating "Thank you for your order with ChaseAlum.org……

etc."
The reception is free but open only to dues-paying CAA members. Due to space limitations, we can only allow 150 members to register. No guests permitted.
Please be sure to contact Andrea at news@chasealum.org if you have registered for the event but find that you will not be able to attend.
Also contact her -- or add a comment to your registration -- if you want your name tag to read with a nickname or non-obvious moniker. We do not add degrees or titles.
Feel free to contact Andrea if you have a problem logging in.
We look forward to seeing you on October 2nd.
Look Who's Coming
[106 alumni as of Thursday, September 28, 2023 at 7:50 p
m
(Eastern)]
* Indicates new member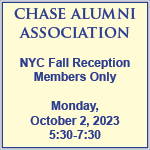 Monday, October 2, 2023
277 Park Avenue – 17th floor
(a JPMorgan Chase facility),
on the east side of Park Avenue,
between 47th and 48th streets
(across from JPMC's future HQ,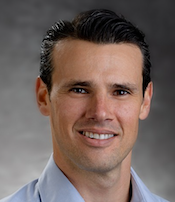 Stevie Baron,
Management, will speak to and then mingle with our group.
J.P. Morgan Wealth Management, which is part of Consumer & Community Banking, provides clients with wealth management and investment services. The business has more than $890B in assets under management, with 5,100 advisors in more than 4,700 branches and 30 offices.
Previously, Baron was Head of Consumer Branch Banking at Chase, where he was responsible for 41,000 employees and all sales and service across Chase's 4,700+ branches. Prior to this, he was Head of National Sales & Support for Consumer Bank and Chase Wealth Management. In this role, he was responsible for all Consumer Banking and Chase Wealth Management branch behaviors. Before that, Baron was Head of Business Development within National Sales, focused on collaboration across all lines of business within Chase and was also Head of Chase Private Client for several years.
Prior to joining Chase, Stevie spent seven years in J.P. Morgan Asset & Wealth Management (AWM) in a variety of roles. He worked on the Global Investments Opportunity desk supporting ultra-high-net-worth individuals and prior to that, worked for the CEO of AWM performing a key advisory and coordinating role, developing strategic and financial initiatives for the business.
Baron holds a BA from Cornell University and sits on the boards of YearUp and BAI. He lives in Manhattan with his wife, son and two daughters.
* * *
The evening will double as the annual meeting of the Chase Alumni Association, at which attendees will formalize the election of the CAA Board, including three new members.
There will also be door prizes, including signed copies of Chase Alumnus Ralph White's
Getting Out of Saigon.
Many thanks to JPMC for hosting the event.
You must be a dues-paying member of the Chase Alumni Association to attend, and though there is no charge, you must pre-register.