In Memoriam: Frank Scaturro, 90
Chase Executive in Branch System over 40-Year Career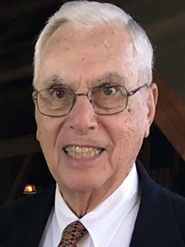 Frank Charles Scaturro, a retired executive in Chase's branch system, died on July 26, 2023 at the age of 90.
Born in Brooklyn, NY, Scaturro attended Bushwick High School and the American Institute of Banking. He was a proud veteran of the U.S. Army and a former member of the Knights of Columbus Council 1814.
Scaturro worked for Chase Manhattan Bank for almost 40 years, as a Branch Manager in Queens and the Bronx, and later as a Vice President and Zone Manager in Westchester County, Brooklyn and Staten Island.
Among his survivors are his wife of 66 years, Patricia (McDonald) Scaturro, a daughter, two sons and seven grandchildren.