In Memoriam: Patricia Clark Haberstroh, 71
Chemical Alumna Became Influential Leader in ALS Community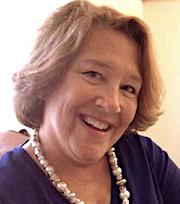 Patricia (Patty) Clark Haberstroh, a Chemical Bank alumna married for 49 years to CAA member Charles Haberstroh, died on July 24, 2023 at Yale-New Haven Hospital in Connecticut at the age of 73.
She had waged a six-year battle with amyotrophic lateral sclerosis (ALS), the terminal neurodegenerative disease also known as Lou Gehrig's Disease. Faced with her diagnosis in October 2017, she became an influential leader in the ALS community through her relentless advocacy and fundraising efforts. The Haberstroh family launched the viral #ALSPepperChallenge campaign on social media, raising over $1million for ALS research, largely benefiting the ALS Therapy Development Institute (ALS TDI).
Thousands of supporters from around the world posted videos of themselves eating hot peppers in honor of Patty and to raise awareness for ALS. Celebrities such as Kelly Clarkson, Jimmy Kimmel, Andy Cohen, Shaquille O'Neal and Charles Barkley participated in the challenge by chomping on jalapeños and habaneros on national television. Patty never did like eating spicy but happily did it for the cause.
She was deeply honored to receive ALS TDI's 2018 Stephen Milne Adventurous Spirit Award for her selfless advocacy and MDA's Wings Over Wall Street Spirit Award in 2020. Her unwavering tenacity inspired her sons to help launch a grassroots Lou Gehrig Day committee, which, beginning in 2021, successfully established an annual awareness day every June 2nd in honor of Lou Gehrig across all Major and Minor League Baseball teams. This is just one of three such days at the MLB where a league-wide athlete and associated cause is celebrated by all teams.
Born November 23, 1949 in New York City, Haberstroh attended Darien High School in Darien, CT, and went on to graduate from Smith College with a BA in Government. She started her career in finance at Bank of Boston. Upon hearing that her male trainee counterparts at Bank of Boston earned more than female trainees, she marched into human resources. After hearing traditional arguments of why the pay imbalances were justified, Haberstroh fought for her female peers and successfully secured equal pay for all.
When she and Charlie Haberstroh married in September 1974, she relocated to Chemical Bank in New York City, to manage Human Resources' Performance Evaluation Function. After the birth of her second child, she requested a part-time job. When her employer asked her to reconsider, pointing out she would have to give up her management job, she said she would accept only a part-time job in order to tend to family. When informed there was no part-time job, she asked the bank to create one, which they did. She worked at Chemical until 1983.
In 1986, with four children under the age of six in tow including newborn twins, the Haberstrohs moved the family to São Paulo, Brazil, to support Charlie's career. After four and a half years in Brazil and becoming fluent in Portuguese, Patty and the Haberstrohs moved to Westport, CT, where she committed her life to public service and education.
She worked for 20 years as a social worker in the Department of Human Services in Westport. As the Town of Westport's Family Program Coordinator, she ran and supported countless important initiatives: the annual Back to School program, which helped provide backpacks, school supplies and shoe store gift cards for hundreds of children from low-income families; The Family Holiday Giving Program, which provided holiday gifts to Westport children of need; the Westport Mentor Program (as Coordinator); Summer Campership Program; Afterschool Scholarships; Thanksgiving dinner donations; MLK Day Basketball Clinics; Minds in Motion; and the Prom and Graduation Gowns Program.
She also took immense pride in volunteer work for Westport's public schools, serving as PTA president of Coleytown Elementary and Staples High Schools and on the PTA Council.
One of her proudest achievements, Haberstroh served on a Westport ad hoc committee to reject an attempt by referendum to cut town education expenses by $1 million in the mid-1990s. Around this time, she also was a key member of the "new" Staples High School planning committee.
She is survived by Charlie, her husband of 49 years and caregiver for six; her son Chuck and his wife, Jacqueline (Horelik), of Westport, CT; her son Steve and his wife Erin (Graves) of New Canaan, CT; her daughter Kim O'Sullivan and her husband Philip of Norwalk, CT; her son Tom and his wife Allison (Hall) of Charlotte, NC; and nine grandchildren.
A celebration of Haberstroh's life will be planned for early fall in Westport. In lieu of flowers, please consider a donation to the following organizations:

ALS Therapy Development Institute

,
Compassionate Care ALS
and
Human Services of the Town of Westport
.
Remembrances
From Wolfgang (and Gerlinde) Fröschl-Fenkart: Charlie --
So sorry to hear the news about Patty. I fondly recall our time together in
São Paulo,
and I am impressed by her accomplishments. With best wishes.