In Memoriam: Susan B. Hughes, 82
Longtime Chase Executive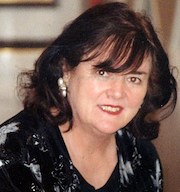 Susan B. Hughes, 82, died on August 11, 2023 on Long Island.
According to former colleague Marion Morgenthal, Hughes had worked for Chase/JPMorgan Chase in multiple capacities.
In the 1990 Chase phone book, she was listed as a vice president, sales manager, for Chase's Manhattan South Branch Division.
Among her survivors are a son, a daughter and two grandchildren.