In Memoriam: Gabriel P. Caprio, 85
Helped Lead Expansion of Chase in South and Central America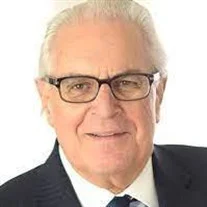 Gabriel P. Caprio, who helped expand Chase's presence in South and Central America and the Caribbean before going on to become President and CEO of Amalgamated Bank, died on August 21, 2023 at the age of 85. He had lived in Tampa, FL and Bridgehampton, NY.

Caprio was born in Newark, NJ, and grew up in Verona, NJ. He lived in Alexandria, VA, Upper Montclair, NJ, and later moved to Glen Ridge, NJ, where he resided for 33 years. Caprio graduated from Seton Hall Prep, received a BA from Seton Hall University and an MBA from New York University. In 2014 the New York College of Podiatric Medicine awarded him an Honorary Doctorate of Humane Letters for the work he had performed for the College. At the time of his death, Caprio served as chair of its Board of Trustees.

Caprio served 10 years in the U.S. Navy, rising to the rank of Lieutenant Commander. After graduating from Officer Candidate School in 1959, he was assigned as Communications Officer of USS Elokomin (AO-55). Later, he was assigned as Navigator. During that period, Elokomin participated in numerous Cold War operations in the North Atlantic and the Mediterranean. In the Caribbean, Elokomin was involved in numerous contingency operations, including the Bay of Pigs and the Dominican Republic crisis of 1961. Elokomin also supported President Dwight D. Eisenhower's 1960 transatlantic flights to and from Paris meetings during which the President confronted Nikita Kruschchev of the Soviet Union. Next, Caprio was assigned as Executive Officer and Navigator of USS Dodge County (LST-722), during which time, at the age of 24, was appointed Acting Commanding Officer and sailed the ship on a Good Will visit from Panama to Barranquilla, Columbia. During this period he was believed to be the youngest Commanding Officer of any ship in the U.S. Navy. Dodge County participated in classified contingency operations in Central America, operating out of Panama. The ship was also at the forefront of the Cuban Missile Crisis and was scheduled to be one of the first ships to land U.S. Army tanks in Mariel, Cuba. Afterwards he served as Intelligence Officer of Amphibious Squadron 8, during which time he planned classified operations in the Caribbean. Caprio was then assigned as Operations and Readiness Officer and Advisor to the Vietnamese Navy 23rd River Assault Group operating out of Vinh Long in the Mekong Delta. In the Delta, he participated in eight combat operations and numerous undocumented and unrecorded river and canal patrols. Returning from Vietnam, Caprio attended the prestigious U.S. Naval Destroyer School and upon graduation was assigned as Operations Officer and Navigator of the nuclear armed destroyerUSS Newman K. Perry (DD-883), Flagship of Destroyer Squadron 20. He also served as Destroyer Squadron 20 Navigator. During this period, the Squadron participated in intense Anti-Soviet Bloc antisubmarine operations in the Atlantic and Nuclear Strike Force operations in the Mediterranean. Caprio was then assigned to the Office of the Secretary of Defense, where he reviewed global situational events and provided briefing materials for the personal attention of Robert S. McNamara, Clark M. Clifford and their principal Deputies.

Caprio began his banking career in 1969 at First National City Bank (Citibank) and later worked at Chemical Bank and Chase Manhattan Bank, from 1975 to 1986. At Chase, as head of Operations and Systems in South and Central America and the Caribbean, he was especially involved in the Bank's expansion in South America, where he and his team took back and rejuvenated Chase majority owned Banco Argentino de Comercio, which had previously been appropriated by the Peron government. New Chase branches were opened in Asuncion in Paraguay, Santiago, Chile and Lima, Peru. Numerous branches were upgraded and automated in the Caribbean. Caprio was especially proud of the advisory services that he and his team provided to virtually all Chase entities in his area of responsibility but especially in Argentina, Panama and Puerto Rico, where he established many long-term friendships.

In 1985, he joined Oxford Research International Corp as Chief Finance Officer and in 1989 was recruited to Amalgamated Bank where he served briefly as Chief Financial Officer before being appointed President and CEO. During his tenure of 15 years, the bank produced record earnings and dividends with little or no losses and grew from $1.8 billion to $4.5 billion in assets.

Caprio served on the Boards of numerous organizations, including the New York Bankers Association where he was very active for 15 years and served as Chairman in 2003. He also was named Chairman Emeritus of the Bankers Advisory Board of the Conference of State Bank Supervisors. He served on the Boards of Catholic Charities Neighborhood Services of the Dioceses of Brooklyn and Queens, The New York College of Podiatric Medicine, the Board of Overseers as well as on the Advisory Board of the School of Management of New Jersey Institute of Technology, the Council of Senior Centers and Services of New York City, the Advisory Board of Neighborhood Housing Services of New York City and NADAP, a New York City based organization with the role of helping individuals overcome barriers to employment.

Caprio's military awards include the Joint Services Commendation Medal, the Navy Expeditionary Medal (Cuba), the Armed Forces Expeditionary Medal, the Vietnam Service Medal, the Republic of Vietnam Campaign Medal, the Republic of Vietnam Meritorious Unit Commendation Gallantry Cross Medal with Palm, the Republic of Vietnam Meritorious Unit Commendation Civil Actions Medal, First Class with Palm and the National Defense Medal.

Among Caprio's survivors are his wife, Jerilyn, daughter and granddaughter.
From Anton Mallner: I was saddened to hear of Gabe's passing. We crossed paths in our Chase years in the Latin America Area and then subsequently when I worked for him for many years at Amalgamed Bank until he retired. He set high expectations for all of us, and gave us the opportunity to excel. While he was always attuned to the needs of the organization, he ensured that he maintained strong personal bonds with us and that family needs were not forgotten. Although I moved overseas after leaving Amalgamated, we kept in close touch. I will always consider Gabe a strong mentor and friend. He will be dearly missed.
From
George Reeves
:
I remember Gabe well...and fondly.
For at least five years, Gabe was the Operations and Systems officer for the Western Hemisphere banking group at Chase. Gabe was most supportive of our Branch group in the Dominican Republic, Panama, US Virgin Islands and, particularly in the early Seventies, when we converted our large branch system at Banco Argentino de Commercio in Argentina to fully Chase branches.
From Gregory Tarris: The thing about Gabe was that he was serious about getting things done, and yet he was open minded about your ideas and in achieving consensus. If you had to draft the characteristics of a leader, you could look no farther than Gabe in action. - and best of all he always had smile for you! I feel privileged to have known him at Chase, when he was at Amalgamated Bank, and even in retirement when he volunteered to give a presentation to my Scale Modeling Enthusiasts group years later about his experience in Vietnam. It was people like him that made my experience at Chase so memorable. Thank you for being you, Gabe. My life was richer for having known you.
From Tony Montes: I was hired by Gabe as System Manager and sent to Buenos Aires, Argentina, as part of the recovery of Chase's subsidiary Banco Argentino de Comercio. This business and friend relationship lasted for over 20 years. Rest in peace, dear Gabe!
From Ed Moran (Chase '66-'85): Gabe was a good friend. We both lived in the Montclair, NJ area, and when he became the CEO of Amalgamated, he asked me to consult with their Real Estate Department, which I did in one form or another for about 10 years. The previous management had been a bit too "generous" with the local developers. He often spoke fondly about his years at Chase and had numerous funny anecdotes of those times.
Gabe was a genuinely nice guy who relished putting people together. I'll always remember his hearty laugh/guffaw. His passing is a surprise to me, since we haven't corresponded in the last year or so. A good man.