In Memoriam: Eshagh Shaoul, 82
Half His 24 Years at Chase Spent Overseas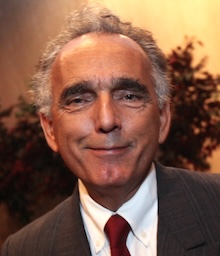 Eshagh Shaoul, who spent half his 24-year career at Chase Manhattan overseas, died at his home in Westminster West, VT, on October 28, 2023. He was 82 and had suffered from progressive frontotemporal dementia.
Shaoul was born in Tehran, Iran in 1941, the fourth of seven children. He grew up in Sarechal, the Jewish ghetto there. At a young age he showed musical aptitude, and his first music teacher sent him to study with a violin master, Abolhassan Sabah. He became a lifelong violinist, bringing joy to all who heard him.
In 1959, at the age of 18, Shaoul left Iran for America. He studied English and then earned Bachelor's, Master's and PhD (in International Political Economy) at The George Washington University. As the first of his family to arrive in the United States, he was responsible for his family's subsequent immigration. First he brought his older brother to the United States for life-saving heart surgery; then his two other brothers, his two sisters and his mother out of Iran to New York, where they all settled.
He left a life of academia in 1972 to begin a career as a financial executive. Shaoul's 24 years at Chase Manhattan Bank as a credit risk executive and country manager included 12 years of living and working overseas. When the family was living in Hong Kong, Singapore, The Ivory Coast and Tokyo, his wife, Rosalyn, taught and his children attended international schools. Shaoul was an active member of the Chase Alumni Association and instrumental in organizing a 2018 gathering that drew 28 alumni who had served in Japan.
After returning to New York in 1990 and taking early retirement from Chase in 1995, Shaoul worked for 10 years at AIG in New York, managing credit risk for their international portfolio. Throughout his financial career he never forgot to play his violin, always carrying it with him wherever he went around the world.
In 1987, during their time in Japan, the Shaouls bought their home in Westminster West, VT. After using it for weekends and vacations, they retired there full-time in 2014. Once settled in Westminster West as a full-time "flatlander," Shaoul led the Windham World Affairs Council as chairperson for five years, recruiting speakers to present on topics of significance to the community.
On the rocky ledge that their home was built on, Eshagh created an indoor "Japanese Garden". On the empty mudflat they found in front of the home, he landscaped lawns and created a botanical oasis featuring burning bush and Japanese maple. As he became increasingly concerned with interfaith harmony and peaceful coexistence in the world, Shaoul created a installation known as the "Temple of Love" on the hill behind the house. It includes artifacts from 11 different cultures and religions as a welcome to people of all backgrounds and faiths.
In recent years he took daily walks, making five-mile rounds of the neighborhood as "The Mayor of Happy Valley" and continued to play his violin. He played Persian classical music, gypsy music and a variety of pieces of his choice, including Kol Nidre and Ave Maria. As this exertion recently became difficult, then impossible, he enjoyed being surrounded by his family and listening to music in the midst of his gardens.
Among his survivors are Rosalyn, his wife of 59 years, their children, Josef, Cyrus and Sara, and five grandchildren.
A memorial will be held in New York City at a later date, to be announced.
From Gary Glick: Such a great delight to have known and worked for Eshagh both at Chase and AIG. He was ever the patient teacher, whether it was Korean conglomerates, Treasury risk assessment or Hong Kong consumer business. And I'll always remember the golden strains of his violin, whether in a garden in Hong Kong or an impromptu concert with staff. He was a man of great humanity and breadth of interest, and I will miss him dearly.
From Tony Singleton: Eshagh was a special friend, an exceptionally talented musician and a gifted story teller with a wry sense of humor. His language was always colorful. He deeply cared for people, especially the least fortunate. He will be greatly missed by all. My deepest condolences to his wife and family.
From Luisa O'Hanlon: I remember Eshagh Shaoul as a kind, considerate, fun and worldly colleague of my first husband Raymond O'Hanlon. They became such good friends as well as colleagues that we were invited to their home for a typical Iranian meal – absolutely delicious, and his wife, Roslyn, and children were absolutely delightful. They gifted us a beautiful Persian vase that is still on display in my home. When Ray passed away, Eshagh reached out to comfort me and express his heartfelt condolences. What a wonderful man, but so happy to hear that he had a long fulfilling life loved by family and friends. RIP Eshagh.
From Richard Butler: Eshagh was my first boss, at Chase Abidjan, Cote d'Ivoire. Such a kind, understanding man. He made my first posting so rewarding with his sly sense of humor, intense curiosity and, of course, his violin playing. I will always remember our many road trips to the interior to meet clients and connect with Ivorians. Thanks so much, Eshagh.
From Ed von Leffern: Eshagh was a close friend in Credit Training and then in Asia Dept. Before Chase he had a PhD in Economics from George Washington University. Chase was expanding in the Middle East due to oil embargoes and massive deposits. After graduating from credit training, Chase offered him a position in Saudi Arabia. I recall him saying, "You are kidding me, I am Jewish." Eshagh is Saul in Persian. RIP a great friend.
From Bill Flanz: The tributes to Eshagh make consistent reference to his kindness and friendly demeanor. His extraordinary biography exemplifies the diverse backgrounds of those who worked at Chase. For many of us, including Eshagh, the Global Credit Training Program initiated the bond that tied many of us together through our Chase careers and beyond. For all, the shared experiences, working in offices all over the world, strengthened those bonds. It was a great pleasure to know Eshagh and I will miss him.